Liu Shih-fang bows out of primary
'RADICALIZED CONFRONTATION': Liu said that she was withdrawing to preserve party unity and to prevent further damage to the reputation of Kaohsiung Mayor Chen Chu
Democratic Progressive Party (DPP) Legislator Liu Shih-fang (劉世芳) yesterday announced her withdrawal from the primary for the party's nominee for Kaohsiung mayor, dropping a bomb on the heated nomination race.
Her withdrawal turns the primary into a race between four DPP legislators: Chen Chi-mai (陳其邁), Lin Tai-hua (林岱樺), Kuan Bi-ling (管碧玲) and Chao Tien-lin (趙天麟), with Chen leading the opinion polls.
Liu, a former Kaohsiung deputy mayor and close aide to Kaohsiung Mayor Chen Chu (陳菊), said she was withdrawing to prevent party disunity and damage to Chen Chu's reputation.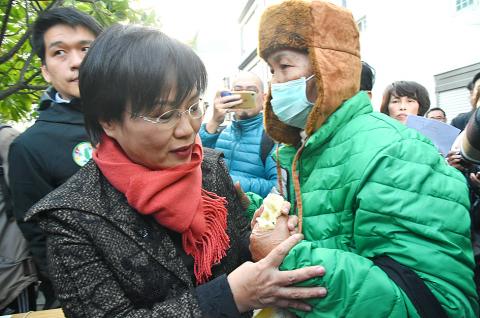 Democratic Progressive Party Legislator Liu Shih-fang, left, is pictured with supporters at a news conference in Kaohsiung yesterday at which she announced her withdrawal from the primary for the party's nominee for Kaohsiung mayor.
Photo: Chang Chung-yi, Taipei Times
"The DPP cannot become divided because of the competition for the nomination. Mayor Chen's reputation should not be further damaged for supporting me. The momentum accumulated over 12 years [of Chen Chu's administration] cannot be lost," Liu wrote on Facebook.
She had announced her candidacy last year and actively campaigned, including setting up hundreds of billboard advertisements citywide.
The first-term lawmaker has lagged behind her competitors for the nomination in opinion polls, losing to Chen Chi-mai by a large margin and running neck and neck with Lin, Kuan and Chao.
A major supporter of Liu, Chen Chu had canvassed for her on multiple occasions, resulting in criticism of the mayor.
Following the publication of a biography of Chen Chu last month that reviewed her administration over the past 12 years, competition among DPP factions has escalated, as some passages have been interpreted as affronts to other candidates, including Kuan and Chen Chi-mai.
Criticism of Chen Chu emerged following the book's publication, including from Representative to Japan Frank Hsieh (謝長廷) of the DPP, who served as Kaohsiung mayor from 1998 to 2005.
"Due to her support for me, Mayor Chen has received much criticism, and far-fetched associations have been made between a simple memoir and the primary election," Liu wrote. "I am worried that radicalized confrontation will cause residents to lose faith in Kaohsiung's future."
In a statement, Chen Chu expressed regret over Liu's withdrawal and apologized for the repercussions of the book on Liu's mayoral bid, saying that her support made Liu the target of unfair criticism.
Chen Chi-mai and Lin said they respected Liu's decision, with Lin warning candidates against turning the primary into a personal feud or a fractious competition.
The DPP plans to nominate its candidate for Kaohsiung mayor on March 14 following a March 5 to March 9 primary.
Comments will be moderated. Keep comments relevant to the article. Remarks containing abusive and obscene language, personal attacks of any kind or promotion will be removed and the user banned. Final decision will be at the discretion of the Taipei Times.