Military men probed over Wang ties
CHINESE FUNDING? Prosecutors say they have evidence that Lin received a monthly payment that matches the amount Zhou indicated in his Fire News report from 2015
The Ministry of National Defense (MND) yesterday confirmed that four active duty personnel and two retired officers are under investigation in connection with a case involving allegations that New Party spokesman Wang Ping-chung (王炳忠) tried to develop media and espionage networks with financial backing from the Chinese government.
"There are four people on active duty and two retired officers who have been summoned for the investigation and were questioned as witnesses. As of now, there is no indication of their involvement in the case," spokesman Major General Chen Chung-chi (陳中吉) said in response to questions during a regular news conference at the ministry.
From his understanding, the four men on active duty had "liked" posts by Wang on Facebook and other social media platforms, he said.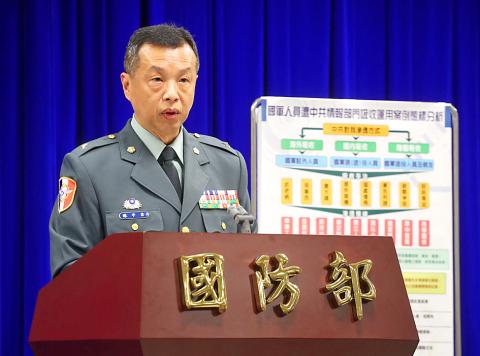 Ministry of National Defense spokesman Major General Chen Chung-chi confirms that six active and retired military personnel are under investigation as witnesses in connection with the investigation into New Party spokesman Wang Ping-chung at a routine news conference in Taipei yesterday.
Photo: CNA
Since the case is under judicial investigation, Chen said he could not divulge the ranks of those who were questioned, and he also declined to reveal their assigned units.
All military personnel are schooled on safeguarding national security, espionage activities by China and how Chinese spies conduct their work, he said.
"Additional courses are also given to officers who are nearing retirement," Chen said. "We provide examples from previous spy cases to show how Chinese operatives enticed former officers, including offering money, beautiful women for sex, business opportunities, helping to alleviate financial problems and even blackmail and threats."
According to the investigation by the Taipei District Prosecutors' Office, China's Taiwan Affairs Office (TAO) allegedly promised to pay Wang NT$15 million (US$506,757) per year to operate the Web site Fire News (燎原新聞網), which he launched in 2014 with its registered address at the New Party's Taipei headquarters.
Prosecutors said Chinese national Zhou Hongxu (周泓旭), who was on Sept. 15 last year convicted on espionage charges, acted as a consultant to promote the Web site.
The two men allegedly organized seminars and group events to recruit Taiwanese for Chinese government networks and to pass on sensitive materials, the prosecutors' office said.
Wang was arrested and questioned last month in connection with Zhou's espionage case along with fellow New Party Youth Corps members Hou Han-ting (侯漢廷), Lin Ming-cheng (林明正) and Chen Ssu-chun (陳斯俊).
According to investigators, Zhou was instructed by the TAO to recruit current and retired military personnel through Wang as part of an operation codenamed "Star Fire T Project" (星火T計劃), which offered financial rewards depending on the value and level of the contacts.
Prosecutors said that Hou and Lin provided personal information on the six men for Zhou to use in recruitment efforts, while Wang and Chen had reportedly encouraged young people to sign up for military schools with the aim that they might become spies or moles and perhaps even rise to become high-ranking officers.
In related news, Taipei prosecutors yesterday confirmed that members of the public have filed legal complaints against Wang and two other New Party members for allegedly violating the National Security Act (國家安全法), and that a separate investigation against them has been launched.
It was also reported that prosecutors are investigating the source and channels of distribution of the alleged TAO funding for Fire News and additional activities, along with the allegation that Wang's father had received US$20,000 in cash from the TAO, but "lost it."
Investigators reportedly have evidence that Lin received monthly bank deposits of NT$25,000, which matched the amount listed by Zhou in his Fire News 2015 Year-end Working Report, and that information from files in Zhou's computer had been corroborated by files found in possession of the four arrested New Party members.
Prosecutors said the material pointed to the men's close cooperation in developing networks funded by China, which would contravene the National Security Act.
Comments will be moderated. Keep comments relevant to the article. Remarks containing abusive and obscene language, personal attacks of any kind or promotion will be removed and the user banned. Final decision will be at the discretion of the Taipei Times.