Quick reaction force to defend Taipei
PALACE GUARD: A reorganized military police unit using motorcycles and armored vehicles is to protect sensitive buildings that have featured in Chinese military drills
A Taipei-based military police motorcycle platoon yesterday assumed a new mission when it became operational as a rapid reaction force for the Taipei garrison zone, tasked with defending the capital against attacks by enemy air assault, parachute, special operations and conventional forces.
Known as the 202nd Military Police Command's Services and Guards Platoon before its transformation, the Quick Reaction Company — also known as the "motorcycle platoon" — was selected to bolster the Taipei garrison zone's defense, a national security official said, speaking on condition of anonymity.
The company was last week formally established in a ceremony at the 202nd Military Police Command Headquarters in Taipei. The company commander is a female officer surnamed Chang (張).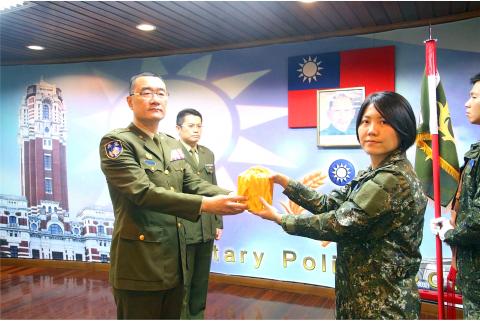 Major General Hsia Te-yu, left, hands the seal of command to company commander Chang of the newly formed Quick Reaction Company at the 202nd Military Police Command Headquarters in Taipei on Sunday.
Photo courtesy of Military Police Command
The motorcycle-equipped platoon's high mobility was a major factor in its selection for the task, the official said.
The military police establishing the Quick Reaction Company might be a response to Chinese military drills simulating invasions of the nation's capital, which have become frequent over the past few years.
Some of the exercises were reported to have simulated attacks by saboteurs and special operations units on recreations of the Presidential Office Building in Taipei and other buildings in the city's government district.
The company is to be equipped with CM-32 armored infantry vehicles and other specialist gear, in addition to its motorcycles, to combat opposing paratroopers, helicopter-borne forces and special operations units, the official said.
It is to receive improved communications gear and has been given high priority in new soldier allocation to speed up its reorganization into a company, the official said.
The Military Police Command said mobility is key to countering threats against the capital and the company could utilize their motorcycles' speed and their rapid engagement capabilities to control the city's strategic positions and major roads.
The military police's motorcycle unit has been reorganized several times since its creation, the command said.
The Service and Guards Platoon, the company's previous iteration, was tasked with administrative, maintenance and transportation missions, in addition to acting as ceremonial guard at major state functions, the command said.
Comments will be moderated. Keep comments relevant to the article. Remarks containing abusive and obscene language, personal attacks of any kind or promotion will be removed and the user banned. Final decision will be at the discretion of the Taipei Times.