Poet Yu Kwang-chung, 90, dies in Kaohsiung
FAREWELL: Born in China in 1928, Yu Kwang-chung began writing in 1949. He migrated to Taiwan in 1950 and in the same year published poems, critical essays and translations
Noted poet and essayist Yu Kwang-chung (余光中) yesterday died from complications from pneumonia at age 90, Kaohsiung Medical University Chung-ho Memorial Hospital said.
Yu was hospitalized last week after a suspected mini-stroke, before being transferred to the intensive care unit because of pneumonia, the hospital said, adding that detailed information has been withheld out of respect for Yu's family.
Yu had been in poor health since last year, when he was twice hospitalized, first for an intestinal complaint and then a fall.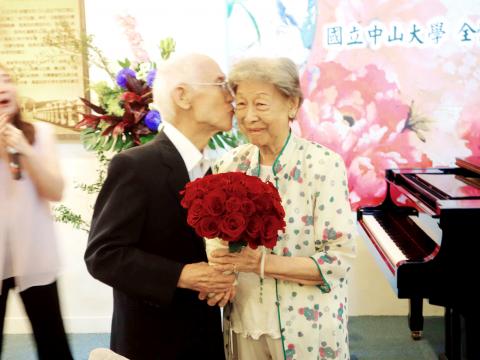 Poet Yu Kwang-chung, left, kisses his wife, Fan Wo-tsun, at an event to celebrate their 60th wedding anniversary in Kaohsiung last year.
Photo courtesy of National Sun Yat-sen University
He celebrated his 60th wedding anniversary last year by donating to charity.
National Sun Yat-sen University, where Yu was a professor emeritus of literature, said the poet made his last public appearance at his birthday party in October.
One of the last classes Yu taught before he retired from active teaching was a humanities seminar, the university said.
Director Ang Lee (李安) and Chinese writer Wang Anyi (王安憶) gave talks at the seminar and Yu was well enough to give lectures, the university said.
Born in Nanjing, China, in 1928, Yu began writing in 1949 while attending Xiamen University.
Fleeing the Chinese Civil War, he migrated to Taiwan in 1950. He gained renown for his literary talent and proficiency after publishing a half-dozen well-received poems, seven critical essays and two translations in a 10-day period in May that year.
Yu wrote poetry, songs, literary critiques and translations. Several of his works, such as Homesickness (鄉愁), My Four Hypothetical Enemies (我的四個假想敵) and Listen to the Cold Rain (聽聽那冷雨), are taught as standard Chinese literature in Taiwan and China.
Yu won a National Culture and Arts Award for new poetry in 1989, and in 2014, the Ministry of Culture awarded him the Cultural Award.
"We must aspire to gather Chinese words into a great philharmonic through the verisimilitude of syntax. The author's pen should, as the symphony conductor's baton, blend the hundreds of notes into music," Yu said in his Cultural Award acceptance speech.
"Yu writes poems with his right and prose with his left. His achievements are peerless," essayist and Shakespeare translator Liang Shih-chiu (梁實秋) once said of Yu.
Politically, Yu was regarded as a staunch proponent of Chinese nationalism and had on multiple occasions spoken out against of Taiwanese independence.
Comments will be moderated. Keep comments relevant to the article. Remarks containing abusive and obscene language, personal attacks of any kind or promotion will be removed and the user banned. Final decision will be at the discretion of the Taipei Times.