Taiwan thanks US over defense act
MILITARY EXCHANGES: A Chinese envoy's threat of 'unification' by force had no real impact on US policy and might even have generated a US backlash, lawmakers said
The Presidential Office yesterday thanked the US after US President Donald Trump on Tuesday signed into law the National Defense Authorization Act (NDAA) for Fiscal Year 2018, which contains provisions favorable to Taiwan's defense, while China voiced opposition to Taiwan-US military exchanges.
The signing of the NDAA was highly anticipated in the nation, as Section 1259 — Strengthening the Defense Partnership of the US and Taiwan — lists the Taiwan Relations Act (TRA) and the "six assurances" as continuing US legal commitments.
The "six assurances," issued in 1982 by then-US president Ronald Reagan, stipulate that the US will not set an end date on arms sales to Taiwan, will not alter the TRA, will not hold consultations with China over arms sales to Taiwan, will not mediate between Taiwan and China, will not pressure Taiwan to negotiate with China and will not formally recognize Chinese sovereignty over Taiwan.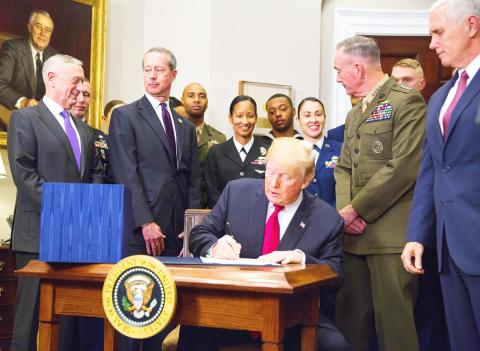 US President Donald Trump signs the National Defense Authorization Act for Fiscal Year 2018 in the Roosevelt Room of the White House in Washington on Tuesday.
Photo: Bloomberg
Additionally, the NDAA states that it is the "sense of the Congress" that the US should invite Taiwan to participate in military exercises, including the Exercise Red Flag advanced aerial combat training drill, and to consider "re-establishing port of call exchanges" between their navies.
Presidential Office spokesman Alex Huang (黃重諺) said that the US is "Taiwan's most important international friend and ally."
Peace and stability in East Asia and the maintenance of good Taiwan-US relations are "of the highest importance to our nation and all countries of the region," he said.
The nation is grateful for the firm support of the US Congress and government, particularly with regard to arms sales and US assistance in Taiwan's efforts to improve its self-defense capabilities, he added.
"As a member of the international community, Taiwan will continue strengthening its relations with the US, and maintain regional peace and stability," Huang said.
China's saber-rattling last week over the prospect of Taiwan and the US exchanging ports of call was a topic of discussion between Democratic Progressive Party (DPP) Legislator Lo Chih-cheng (羅致政) and Chinese Nationalist Party (KMT) Legislator Johnny Chiang (江啟臣) at a policy forum yesterday.
The day US Navy vessels arrive in Kaohsiung would be the day that the Chinese People's Liberation Army "unifies" Taiwan by force, Chinese media quoted Li Kexin (李克新), a minister at the Chinese embassy in the US, as saying on Friday.
Lo said the NDAA's signing shows that Li's comments had no real impact on US policy and might have even generated a US backlash against Beijing.
The NDAA's passage demonstrates that there is a bipartisan political consensus in the US to bolster Taiwan's defenses and that agenda is supported by the White House and Congress, he said.
Chiang said the timing of Trump's signing the NDAA into law appears to be a direct response to Li's remarks, but added that becoming involved in the US-China rivalry might not be advantageous to Taiwan.
Asked to evaluate the risk of warfare that might arise due to port of call exchanges, Lo said China's provocative actions are to blame for any putative rise in cross-strait tensions.
Chiang said he does not want any improvement in Taiwan-US collaboration that would cause cross-strait tensions to rise, adding that trilateral relations should be managed to avoid a conflict.
The US might leverage the port of call exchanges to pressure Beijing in future negotiations, he said.
Asked about the remarks at a regular news briefing yesterday, China's Taiwan Affairs Office spokesman An Fengshan (安峰山) said that Taiwan is an internal matter for China and that Beijing opposes any form of military contact between Taipei and Washington.
"What I want to stress and point out is that any relying on foreigners to build oneself up or plots to harm national sovereignty and territorial integrity will be opposed by the entire Chinese nation, and cannot succeed," An said.
Chinese military activity around Taiwan's airspace over the past week was part of regular exercises, not a cause of rising cross-strait tensions, he said.
The cross-strait stalemate is due to the DPP's refusal to acknowledge the so-called "1992 consensus," resulting in military distrust between Beijing and Taipei, he added.
The "1992 consensus," a term former Mainland Affairs Council chairman Su Chi (蘇起) in 2006 admitted making up in 2000, refers to a tacit understanding between the KMT and the Chinese government that both sides of the Taiwan Strait acknowledge that there is "one China," with each side having its own interpretation of what "China" means.
Additional reporting by CNA and Reuters
Comments will be moderated. Keep comments relevant to the article. Remarks containing abusive and obscene language, personal attacks of any kind or promotion will be removed and the user banned. Final decision will be at the discretion of the Taipei Times.