Questions raised about e-Gates security
MADE IN CHINA? Software and hardware were allegedly bought from China, despite rules against such purchases, and then reported to have been manufactured locally
The Taipei District Prosecutors' Office and the Agency Against Corruption have discovered that National Immigration Agency (NIA) officials bought biometric equipment from China for use in the e-Gates in the nation's three major airports, sources said on Saturday.
The biometric equipment, which has been in use since 2012 at Taiwan Taoyuan International Airport, Kaohsiung International Airport and Taipei International Airport (Songshan airport), allows fast-track passport control for frequent travelers by using biometric verification methods such as facial recognition and fingerprint identification, and might have been compromised by China-made software and equipment, sources told the Liberty Times (the sister paper of the Taipei Times) on condition of anonymity.
The allegation has alarmed government investigators and security experts, who fear the e-Gates would be vulnerable to hacks by China or other groups seeking to obtain privileged information, or to circumvent travel restrictions on criminals or others, sources said.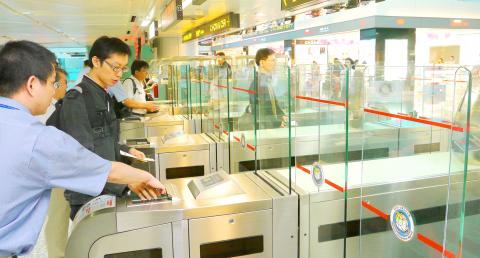 Passengers use biometric e-Gates at Taiwan Taoyuan International Airport on Sept. 13, 2011.
Photo: Tony Yao, Taipei Times
The Public Construction Commission's regulations bar the purchase of equipment or technology from China that are "of a sensitive nature or might affect national security."
Investigators reportedly suspect the bid for e-Gate computers and software was rigged by Transtep Technology Group (跨越科技) owner Lee Chi-shen (李奇申) and then-immigration agency information section chief Shih Ming-te (施明德), sources said.
They said investigators suspect Lee conspired to fix the bid for e-Gate computers and software as early as 2009.
Lee allegedly arranged for other industry figures to submit bids on his behalf and surreptitiously dictated the technical requirements of the project by writing the code for the border control's operating system, sources said.
While e-Gate contractor Ho Fan Co (和範) is nominally a Fuji Xerox subsidiary, Transtep Technology was in control of all business related to the e-Gate contract, sources said.
TECO Smart Technologies Co (東元捷德), which supplied the e-Gate equipment to Ho Fan, allegedly imported the machines from China and then claimed they had been manufactured in Taiwan, the sources said.
Prosecutors and anti-corruption officials are concerned that Lee appears to have held a monopoly on the government's procurement of e-Gate systems, they said.
There are fears that Lee might have knowingly or unknowingly compromised the border control apparatus via pre-installed backdoors, which could be exploited by a third party, sources said.
Lee is suspected of having connections to "specific individuals" in China and was known to have sent personnel to Shenzhen for "training," raising fears that Lee had "nullified" the nation's border controls and endangered travelers' privacy, they said.
The sources said Lee and Shih are suspected of involvement in no fewer than seven allegedly rigged tenders over the past eight years and there are concerns the two men might have been acting under the instructions of others.
Shih and former immigration information section chief Chen Ying-chieh (陳英傑) were among the 41 people questioned last month by prosecutors in connection with the suspicious contracts.
Prosecutors in Taipei yesterday would only confirm that an investigation is underway.
Additional reporting by CNA
Comments will be moderated. Keep comments relevant to the article. Remarks containing abusive and obscene language, personal attacks of any kind or promotion will be removed and the user banned. Final decision will be at the discretion of the Taipei Times.