Cabinet approves campaign finance reform proposals
The Cabinet yesterday approved proposed amendments to the Political Donations Act (政治獻金法) aimed at increasing the transparency of campaign financing and reducing the risk of illegal activities, the Executive Yuan said.
The drafts were approved at a meeting chaired by Premier William Lai (賴清德), who described them as an embodiment of the resolutions made by the National Congress on Judicial Reform.
If passed by the Legislative Yuan, the amendments would require that contributions to politicians from individual and corporate donors be made public through the Control Yuan's Web site, Deputy Minister of the Interior Hua Ching-chun (花敬群) said.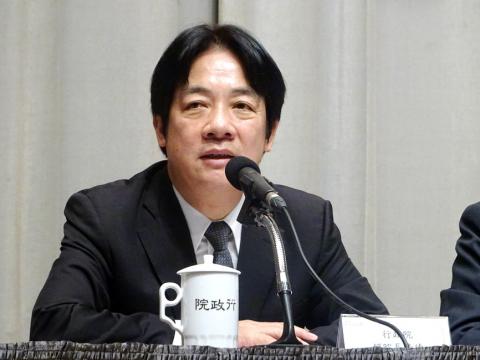 Premier William Lai speaks at a news conference at the Executive Yuan in Taipei in an undated photograph.
Photo: Lee Hsin-fang, Taipei Times
The Political Donations Act requires the Control Yuan to publish online only a political campaign's final accounts, whereas the proposal would require the publication of all 25 items in campaign finance reports, he said.
The amendments also stipulate that the Control Yuan publish the campaign finance reports of each politician in full, instead of just a portion of them, he said.
They would shift the period during which township mayoral candidates are permitted to receive political contributions to coincide with those of city and county councilor candidates, officials said.
City and county councilor candidates are allowed to receive donations starting from eight months before the current postholder's tenure is expected to expire until the day before election day.
The amendments would also establish a legal framework for political contributions made to the campaigns of Aboriginal district administrators and city councilors in the six special municipalities, the premier said.
Clearer regulations would help protect the political rights of Aboriginal citizens and their elected representatives, he said.
The Ministry of the Interior has been told to help party caucuses facilitate the speedy passage of the bill through the legislature, he said.
The Executive Yuan is also considering drafting additional amendments that would legalize and regulate campaign contributions during recall elections as part of its next round of campaign finance law reforms, a Ministry of the Interior official said on condition of anonymity.
Comments will be moderated. Keep comments relevant to the article. Remarks containing abusive and obscene language, personal attacks of any kind or promotion will be removed and the user banned. Final decision will be at the discretion of the Taipei Times.