Taichung cuts plant's coal use by 24%
CLEANER AIR: It was the first time since the Taichung plant was constructed 30 years ago that the city had acted to slash coal use in hopes of reducing pollution
The Taichung City Government yesterday approved state-run Taiwan Power Co's (Taipower, 台電) request to extend the service life of nine coal-fired generators at its Taichung Power Plant, with the proviso that the plant cuts its bituminous coal usage by almost a quarter.
Taipower said that such a drastic cut would decrease the plant's annual power generation by 4.5 billion kilowatt-hours and could pose a risk to the nation's power supply.
Taipower said that it filed applications for an extension on Nov. 6 and on Friday last week, but both proposals were rejected by the city government for not going far enough in reducing coal usage.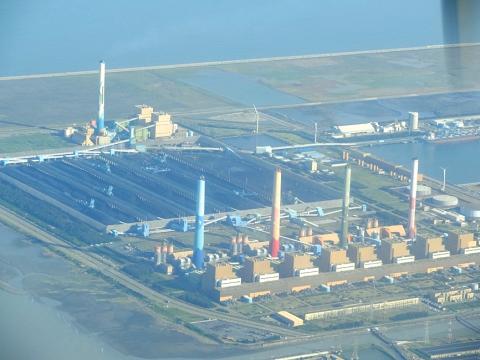 Taiwan Power Co's Taichung Power Plant is pictured yesterday.
Photo: Tsai Shu-yuan, Taipei Times
In its second application, Taipower proposed slashing its annual coal usage by 3.15 million tonnes, but the city government said the proposed volume would not meet the reduction in coal usage required by the Autonomous Act for Coal Regulation (台中市管制生煤自治條例).
The Taichung Environmental Protection Bureau said that it would only agree to the extension if Taipower cuts its planned coal usage by 5 million tonnes, or 24 percent, from 21 million tonnes.
Taipower said the plant generates 44.4 billion kilowatt-hours per year and a 4.5 billion kilowatt-hours reduction would be like shutting down one coal-fired generator.
It would be impossible to replace coal with natural gas in such a short period, because the plant needs time to expand its facilities, the company said, adding that its two combined-cycle gas turbines would not be ready until 2025 at the earliest.
Even if the plant switches over to natural gas completely, it would require 600,000 tonnes of natural gas, which presents a challenge for the company in terms of sourcing and could threaten the power supply nationwide, the company said.
This is the first time that the city government has taken action to cut coal usage since the plant was built 30 years ago.
Taichung Mayor Lin Chia-lung (林佳龍) said that the plant has benefited the public for the three decades since its establishment, but its use of coal has generated significant air pollution.
The city passed the act last year, which was the main reason it asked Taipower to reduce its coal usage, Lin said.
"We believe that the municipal order to decrease coal usage — the first of its kind — is in line with public expectations," Lin said.
He said that he believes the goal set down by the act is attainable.
Lin said he hopes that Taipower would work with the city and help improve air quality in the region.
Additional reporting by Chang Ching-ya
Comments will be moderated. Keep comments relevant to the article. Remarks containing abusive and obscene language, personal attacks of any kind or promotion will be removed and the user banned. Final decision will be at the discretion of the Taipei Times.