Fighter crashes into sea, search for pilot continues
A Dassault Mirage 2000 fighter jet crashed yesterday evening during a training mission over the seas north of Taiwan, the Air Force Command said.
At press time last night, a military search-and-rescue helicopter team was still looking for the pilot, Captain Ho Tzu-yu (何子雨) of the 499th Tactical Fighter Wing, the air force said.
The lost fighter, tail code 2040, took off from Hsinchu Air Base yesterday evening for a training mission, it said.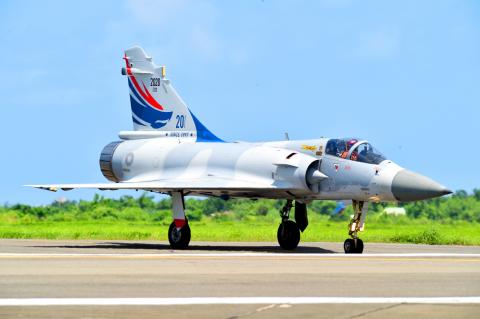 A Republic of China Air Force Dassault Mirage 2000 jet fighter stands on a runway in Kaohsiung on Aug. 7.
Photo: Chang Chung-i, Tapei Times
At 6:43pm, the jet was flying near Pengjia Islet, about 40 nautical miles (74km) from Keelung, when it vanished from radar and air controllers lost contact with the pilot.
Sikorsky S-70C helicopters were launched at 7:05pm to conduct search-and-rescue operations over the fighter's last known location and the coast guard was informed of the missing plane.
Ho, 28, was inducted into the air force pilot school in 2011 and has a good military record, the air force said, adding that he has logged 419 flight hours in the Mirage 2000 out of 718 total flight hours.
The nation in 1989 reached an agreement with France to buy 60 Dassault Mirage 2000 fighters, which were delivered in 1998.
Before yesterday, four fighters had been lost in accidents, in October and December 1999, November 2001 and May 2013.
Three Mirage 2000 pilots perished in those accidents, while five survived.
In addition, a Mirage 2000 fighter tail, coded 2057, was set on fire after a suspected bird strike, but the pilot escaped alive and the aircraft was fully repaired.
The cause of the crash was unknown.
Comments will be moderated. Keep comments relevant to the article. Remarks containing abusive and obscene language, personal attacks of any kind or promotion will be removed and the user banned. Final decision will be at the discretion of the Taipei Times.