South Korean professor indicted for harassment
Prosecutors yesterday indicted a South Korean assistant professor at National Chengchi University for alleged sexual harassment of his female students.
The Taipei District Prosecutors' Office said there was sufficient evidence to indict the acadmic, surnamed Park, who teaches in the university's Department of Korean Language and Culture, following testimony from students who said Park groped and pinched them, despite their resistance.
The case came to light in June when two female students made accusations about groping and later filed complaints with police.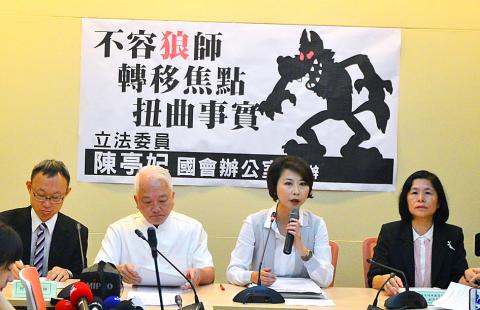 Democratic Progressive Party Legislator Chen Ting-fei, second right, holds a news conference at the Legislative Yuan in Taipei on June 27 calling on prosecutors to investigate allegations of sexual harassment by a South Korean professor at National Chengchi University. The professor was indicted yesterday.
Photo: Wang Yi-sung, Taipei Times
An investigation was conducted by the university's gender equality committee, which found "serious violations" by Park and as a result recommended terminating his contract.
Park was charged under the Sexual Harassment Prevention Act (性騷擾防治法).
A female student surnamed Yeh (葉) testified that Park took advantage of a one-on-one situation in his office to touch and grope her several times, prosecutors said.
"Park stroked me just below my clavicle. He blew into my palm, then slapped my buttocks twice. He also pinched my cheek and my waist several times, despite my resistance," Yeh said.
Yeh said that when she resisted, Park said: "You should not do that to your professor. You are overreacting. You are acting as though I am a pervert. You are always thinking about me, right? If you want me, just let me know."
Another female student gave a similar account, prosecutors said.
Prosecutors interviewed other students as witnesses, who said they had seen Park putting his hands on students and hugging them openly.
Park has denied the allegations.
Democratic Progressive Party Legislator Chen Ting-fei (陳亭妃) in June called on prosecutors to investigate the case, saying that Park had accused a female student of making up stories and had continued to make advances, despite her firm objections.
At that time, Park filed a lawsuit against Yeh and Rick Chu (朱立熙), a lecturer at the university and former Taipei Times editor-in-chief who had backed the students, for damage to his reputation.
Chu has filed a counterclaim against Park for making false accusations, adding that 202 students have signed a petition accusing Park of ineptitude, including 111 from other departments.
Comments will be moderated. Keep comments relevant to the article. Remarks containing abusive and obscene language, personal attacks of any kind or promotion will be removed and the user banned. Final decision will be at the discretion of the Taipei Times.