CUPP members may face attempted murder charge
The Taipei District Prosecutors' Office yesterday said it plans to press charges of attempted murder against Chinese Unity Promotion Party (CUPP) members Chang Wei (張瑋) and Hu Ta-kang (胡大剛), while a legislator accused the party of being an organized crime group funded by Beijing to create social disturbance, incite violence and intimidate Taiwanese.
Chang and Hu were questioned and released on bail of NT$250,000 each.
Chang is the son of CUPP Chairman Chang An-le (張安樂), nicknamed the "White Wolf," who is the former leader of the Bamboo Union gang and is known for his outspoken views of and support for Beijing.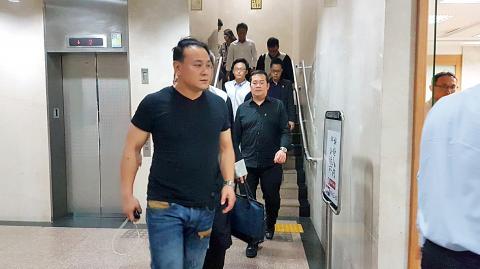 Chang Wei, front, son of Chinese Unity Promotion Party Chairman Chang An-le, and four other suspects are released on bail yesterday by the Taipei District Prosecutors' Office.
Photo: Chien Lee-chung, Taipei Times
Prosecutors also summoned for questioning three other CUPP members, who were released after posting bail of NT$100,000 each, as part of a judicial probe into allegations that National Taiwan University students were assaulted on Sunday by CUPP members after a cross-strait musical event on campus was called off early.
A special taskforce has been assembled, led by head prosecutor Huang Hui-ling (黃惠玲) and three others, to investigate CUPP activities and its finances.
"We are resolute in upholding the law and will prosecute all illegal activities. A taskforce has therefore been set up and will coordinate with criminal investigation and money-laundering agencies to gather evidence and fully investigate CUPP," the prosecutors' office said in a statement.
Prosecutors said they would check the party's financial operations and money flows to find out if it had violated the Organized Crime Prevention Act (組織犯罪條例) and Political Donation Act (政治獻金法), amid speculation that Beijing is its main financial backer.
Democratic Progressive Party Legislator Chiu Yi-ying (邱議瑩) cited reports alleging that China gave Chang An-le 5 million yuan (US$753,590) a year and the Bamboo Union 30 million yuan a year to fund their activities in Taiwan.
CUPP is an organized crime group that tries to shield its operations and activities under the guise of a political party, Chiu said, accusing the group of being involved in numerous violent incidents aimed at destabilizing society.
Calling on judicial and law enforcement agencies to get tough on CUPP, Chiu said she supports Taipei prosecutors launching a probe into the group's background and finances, while accusing the government of being lenient on the group.
Premier William Lai (賴清德) vowed tough action, saying: "CUPP members have repeatedly carried out criminal activities and have been involved in violent incidents, beating up people and causing injuries. Our society must not tolerate this kind of behavior. We will investigate whether this group is an organized criminal gang, and treat its members as such. We will ask the Ministry of the Interior and the Ministry of Justice to handle this case in earnest."
The National Police Agency has conducted spot checks at nightclubs and entertainment establishments reportedly owned or with alleged links to the Bamboo Union, the Heavenly Way Gang, the Four Seas Gang and other organized crime groups in an effort to plug their sources of income.
Media reports have alleged that CUPP members belong to a semi-paramilitary unit of a chapter of the Bamboo Union that has been instructed to fight or carry out violent acts at events or against identified targets.
Asked about these accusations, Chang An-le said: "That is absurd. CUPP is a registered political party; we are not an organized crime group."
Comments will be moderated. Keep comments relevant to the article. Remarks containing abusive and obscene language, personal attacks of any kind or promotion will be removed and the user banned. Final decision will be at the discretion of the Taipei Times.