Tsai calls for constitutional reforms
PARTY CONGRESS: The DPP chair said the public wants a more efficient government with a clearer division of power. She said the party must be ready to face challenges
Constitutional reform is needed to build a more functional democracy for Taiwan, President Tsai Ing-wen (蔡英文) said yesterday as she called on the Democratic Progressive Party (DPP) to come up with new narratives and policies to respond to domestic and international changes.
In a speech to the DPP's 17th National Congress in her role as party chair, Tsai hinted at ways the Constitution could be amended to improve the electoral system, implement constitutional human rights protection and enhance the separation of powers.
"Veteran members of our party helped Taiwan gain democracy. The mission of our generation is to build a more functional democratic constitutional system for Taiwan," Tsai told the afternoon meeting in Taipei.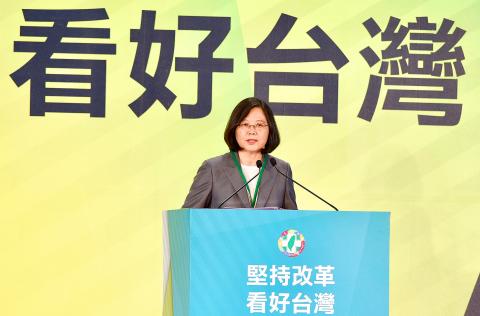 President and Democratic Progressive Party Chairperson Tsai Ing-wen speaks at the party's 17th National Congress in Taipei yesterday.
Photo: Peter Lo, Taipei Times
There has been a lot of debate over amending the Constitution over the years, but a reform initiative two years ago failed to bring about reforms in issues were there was a consensus, such as lowering the minimum voting age to 18, codifying human rights and reforming the legislative election system that has led to unequal vote values and inequitable representation, Tsai said.
"Following three government transitions, the public hopes for a more efficient government with a clearer division of power and responsibilities," Tsai said, echoing calls from the DPP to abolish the Control Yuan and the Examination Yuan.
The DPP has to shape a new cross-strait relationship as it faces four challenges: the rise of China; the transition of global politics to a multipolar system; changes in the world economy and changes in Taiwanese society, she said.
"[We] cannot honestly face the rise of China and its development with irrational hatred or mere ingratiation. We have to find a new mode of interaction with Beijing under the condition that Taiwan's national identity and sovereignty are maintained," Tsai said.
World politics have moved from the bipolarization of the Cold War era to a dynamic relationship, and the DPP must reassess Taiwan's geopolitical role, which is why she has pushed the New Southbound Policy, Tsai said.
The party must propose solutions to transitioning Taiwan's industrial, economic and labor policies, as well as interacting with civil groups and "third force" parties, she added.
To prepare for the new challenges, Tsai said she has instructed the DPP and its related think tanks to re-examine the narratives and policies of 12 categories: foreign relations and international participation, regional security and cross-strait relations, national defense, freedom and human rights, the political system, finance and economy, social welfare, labor, education and culture, digital technology, national land planning, and agriculture, forestry fisheries and the animal husbandry industries.
She urged solidarity among DPP members, a move interpreted as addressing internal conflicts over how to respond to calls for a pardon for former president Chen Shui-bian (陳水扁) and the party's nomination mechanism for the next year's mayoral and councilor elections.
"Should we face Taiwanese as a party beset by infighting or as a unified party? As a party caring for Taiwan or only for its own interest?" Tsai said.
"Taiwanese do not owe the DPP anything. I want every party member to remember this. We have to be unified. We have to be responsible. We should not create unnecessary troubles," she said.
Party members should live up to the party's motto of being "honest, diligent and local" in formulating and implementing policies, such as the pension reform, long-term care service, judicial reform, ill-gotten party assets settlement, Aboriginal transitional justice, the Forward-looking Infrastructure Development Program and tax reform, she said.
Comments will be moderated. Keep comments relevant to the article. Remarks containing abusive and obscene language, personal attacks of any kind or promotion will be removed and the user banned. Final decision will be at the discretion of the Taipei Times.