Jet upgrade costs balloon to US$4.31bn
MEETING EXPECTATIONS: It is not uncommon for the cost of US arms deals to increase, a source said, adding that this deal was first discussed in September 2011
Upgrades to the nation's fleet of F-16 jets will cost the nation about NT$129.6 billion (US$4.31 billion), more than NT$19.6 billion higher than the original estimate, a military source said yesterday.
The sudden increase in the cost of the upgrades includes US military demands that Taiwan shoulder more of the research costs associated with improving the jets' capabilities and the cost of the anti-radiation missiles (ARM) that the US has agreed to fit to the aircraft, the source said.
Price rises during weapons procurement from the US are not uncommon, the source said, citing US requests for NT$10.1 billion over the original NT$30.8 billion cost of the purchase of a long-range radar warning system in 2012.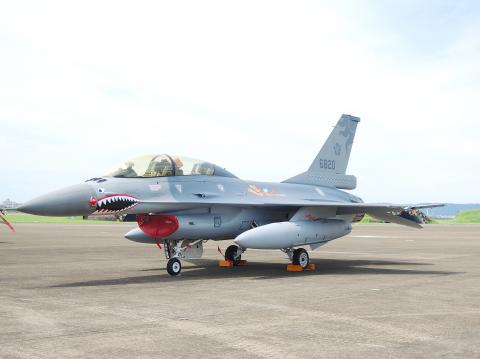 An F-16 jet is parked at Chingchuankang Air Base in Taichung on May 14.
Photo: Lo Tien-pin, Taipei Times
The two sides entered several rounds of negotiation before a final agreement was met on that deal, the source added.
The upgrades will give the nation's aging fleet of F-16A and F-16B aircraft the new F-16V designation.
The F-16V will feature an AN/APG-83 active electronically scanned array radar, an upgraded mission computer system and cockpit improvements.
The nation has 144 F-16s all of which are to be upgraded, the source said, adding that the original NT$110 billion was expected to be paid by 2023. The cost increase means that military budgets for the next six years will need to be adjusted, the source said.
The original agreement to upgrade the jets was made in September 2011, and more recent negotiations saw the procurement of ARM missiles and Joint Standoff Weapon (JSOW) systems, the source said, adding that while high-level military personnel hope to acquire US weapons and upgrade defenses, increased costs mean future purchases might need to be done in a piecemeal fashion.
The source said that while the government might have known that purchasing the ARM and JSOW systems would increase costs, officials suggested that the purchase of the weapons could be put on hold.
Amendments to the defense budget are to be discussed at the legislative session that begins on Friday, the source said, adding that a more complete explanation for the discrepancy from the original cost of upgrading the jets would also be discussed.
Comments will be moderated. Keep comments relevant to the article. Remarks containing abusive and obscene language, personal attacks of any kind or promotion will be removed and the user banned. Final decision will be at the discretion of the Taipei Times.