Talim sea alert likely to be lifted
A sea warning for Typhoon Talim is expected to be lifted this evening after the storm moves toward Japan, the Central Weather Bureau said.
At 5pm yesterday, the typhoon was about 410km east of Taipei, moving north-northwest at 12kph, bureau data showed.
Talim is packing maximum sustained winds of 144kph and gusts of 180kph, the bureau said.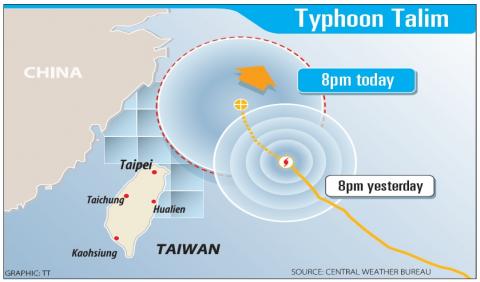 The bureau said earlier yesterday that it is unlikely to issue a land warning as Talim has shifted northward.
However, the outer rim of the storm could bring heavy rain to northern parts of Taiwan, with the full effects expected to be felt by today before it moves toward Japan, the bureau added.
The typhoon has picked up in strength and its radius continues to develop, so Keelung is expected to feel winds measuring up to 10 on the Beaufort scale yesterday and today.
Gusts up to level 9 are expected off western and eastern Taiwan and in Penghu, Kinmen and Matzu counties, the bureau said.
Waves up to 3.7m have been observed off New Taipei City's Cape Fuguijiao (富貴角), the nation's northernmost point, and 4.6m waves are expected on northern beaches, the bureau said.
Domestic and international airlines have canceled or rescheduled some flights today, while the Taiwan High Speed Rail's operations are unaffected.
EVA Airways Corp (長榮航空), China Airlines Ltd (中華航空) and Far Eastern Air Transport (遠東航空) announced cancelations and rescheduling of some flights, particularly those to Japan and the US.
EVA Airways has canceled many flights scheduled to depart from Taiwan Taoyuan International Airport today, including BR178 to Osaka, BR198 to Tokyo, BR391 to Ho Chi Minh City, BR227 to Kuala Lumpur and BR728 to Hohhot.
Tigerair Taiwan (台灣虎航) and Vietnam Airlines have canceled flights to Japan and Vietnam.
Travelers are advised to check with airlines before departing for airports.
Meanwhile, Tropical Storm Doksuri in the South China Sea is expected to move toward China's Hainan Island and is unlikely to effect Taiwan, the bureau said.
Comments will be moderated. Keep comments relevant to the article. Remarks containing abusive and obscene language, personal attacks of any kind or promotion will be removed and the user banned. Final decision will be at the discretion of the Taipei Times.