Three dead, six missing as storm hits Philippines
At least three people died and six were missing after a major storm caused widespread flooding in and around the Philippine capital yesterday, forcing schools, government offices and businesses to shut down.
The tropical depression, which left some people wading through chest-deep waters outside Manila, was the latest to hit the Southeast Asian archipelago, which endures about 20 such storms each year.
Most of the dead and missing were poor people forced to live in identified "danger zones" despite government warnings of the risks they face during storms.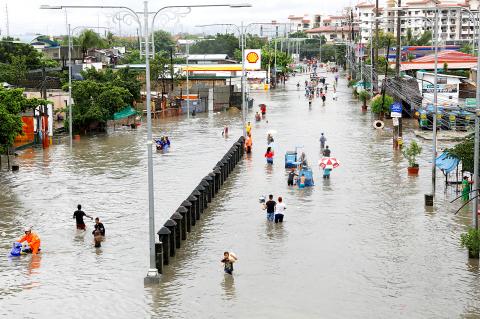 Residents wade and ride on pedicabs along a partially flooded road, in Las Pinas Metro Manila as a storm sweeps across the main Luzon island yesterday.
Photo:Reuters
"Our local authorities had continuously warned them that their place was really prone to landslides, but they insisted on staying," civil defense officer Ronnie Mateo said after the rain caused a landslide that fatally buried two teenage brothers just east of Manila.
A 12-year-old girl drowned in a rain-swollen river in a Manila suburb, city officials said.
Tropical Storm Doksuri hit the eastern town of Mauban before moving northwest across the main island of Luzon and passing just beside Manila, the Philippine weather bureau said.
In Calamba City south of Manila a flash flood washed away a riverside shanty, leaving six inhabitants, including a two-year-old missing.
"They were informal settlers, living beside a river. There was a flash flood and it washed out their two-story house," Calamba City disaster management office head Noriel Habana said. "In previous floods, we had pre-emptive evacuation. It just so happened it was a flash flood and they had no time to react."
Twenty-two passengers of a bus stranded in floodwaters were rescued in Quezon province, officials said.
Typhoon Talim was yesterday 865km east of the Philippines' northern tip and moving toward Taiwan.
Talim is due to make landfall on Taiwan late today and officials there were especially concerned about the risk of mudslides in mountainous parts of the nation.
The central government is contacting mountain village wardens, arranging free evacuations to shelters, monitoring rivers and mudslide-prone areas.
Comments will be moderated. Keep comments relevant to the article. Remarks containing abusive and obscene language, personal attacks of any kind or promotion will be removed and the user banned. Final decision will be at the discretion of the Taipei Times.