Ministry of Finance unveils tax plan
REVIEW REQUIRED: The ministry outlined plans for dividend income taxes, where investors could choose a 26% flat rate tax after a deduction or a progressive scheme
The Ministry of Finance yesterday proposed raising corporate income tax rates and cutting personal income tax rates in a bid to make the nation's tax burdens more equitably distributed without losing global competitiveness.
Minister of Finance Sheu Yu-jer (許虞哲) unveiled the reform package, which seeks to address concerns that the tax system disadvantages salaried people, small and medium-sized enterprises and skilled workers.
"We suggest increasing corporate income tax rates from 17 percent to 20 percent to support cuts on corporations' retained earnings and higher tax deductions for middle and low-income earners," Sheu told a news conference.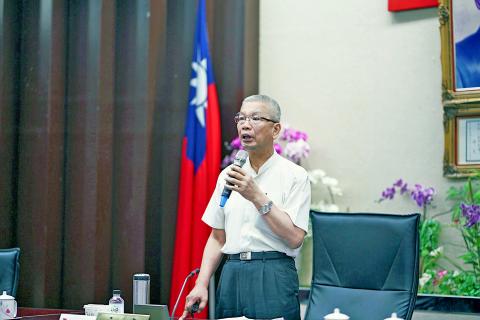 Minister of Finance Sheu Yu-jer speaks at a news conference at the ministry in Taipei yesterday.
Photo: CNA
The package, which requires approval from the Cabinet and the Legislative Yuan, would benefit 5.42 million people if put into practice, which would be next year at the earliest, Sheu said, adding that the package would cost the government between NT$5.9 billion and NT$6.9 billion (US$195.6 million and US$228.8 million).
The business income tax is relatively low, so a mild increase should be harmless, Sheu said.
The measure would call for a 5 percent to 10 percent tax reduction on retained earnings, allowing companies more financial means to plan expansions and upgrades, Sheu added.
The change is important for small and medium-sized enterprises, as they tend to have more trouble raising funds than large-cap firms, he said.
The ministry also suggested lowering the personal income tax cap from 45 percent to 40 percent, on par with South Korea, but lower than China's and Japan's 45 percent.
China in particular has courted skilled technology engineers from Taiwan by offering exceptionally high salaries to help build its semiconductor industry, it said.
The ministry also called for a 1 percent increase in the dividend income tax for foreign investors from the current 20 percent.
The increase is intended to narrow the difference between foreign and local investors, who are subjected to personal income tax rates of up to 45 percent.
The large gap has encouraged tax evasion and fund outflows through the creation of foreign dummy firms, accounting companies have said.
The ministry detected a need for change in light of the free and convenient capital flows to global markets, which promise higher yields and lower costs, officials said.
The ministry also introduced a separate tax plan for dividend income under which Taiwanese investors could choose a flat 26 percent tax after a deduction of NT$80,000.
Alternatively, local investors could adopt a progressive scheme that would spare 37 percent of their income tax dividends and subject the remaining amount to personal income taxes of 5 percent to 40 percent, the proposal said.
The ministry would settle on a measure before turning it over to the legislature, which is to review the package later this month, Sheu said.
Comments will be moderated. Keep comments relevant to the article. Remarks containing abusive and obscene language, personal attacks of any kind or promotion will be removed and the user banned. Final decision will be at the discretion of the Taipei Times.