North Korea launches missile over Japan's Hokkaido
North Korea fired a ballistic missile over Japan's northern Hokkaido Island into the sea early yesterday, prompting warnings to residents to take cover and drawing a sharp reaction from Japanese Prime Minister Shinzo Abe.
The test, one of the most provocative ever from the reclusive state, came as US and South Korean forces conduct annual military exercises on the Korean Peninsula, angering North Korea, which sees them as a preparation for invasion.
Pyongyang has conducted dozens of ballistic missile tests under North Korean leader Kim Jong-un, the most recent on Saturday, in defiance of UN sanctions, but firing projectiles over mainland Japan is rare.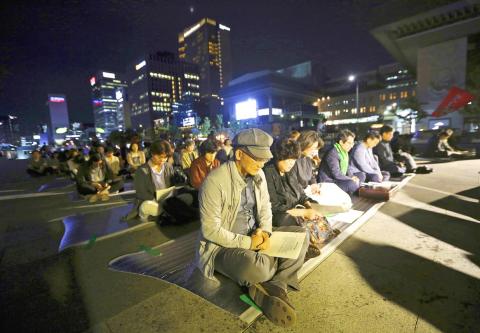 People pray during a religious service for peace on the Korean Peninsula near the US Embassy in Seoul yesterday.
Photo: AP
"North Korea's reckless action is an unprecedented, serious and a grave threat to our nation," Abe told reporters.
Abe said he spoke to US President Donald Trump yesterday and they agreed to increase pressure on North Korea.
Trump also said the US was "100 percent with Japan," Abe told reporters.
Washington still needed to do "further analysis" of the launch, but it will be the subject of a UN Security Council meeting later in the day, US Permanent Representative to the Conference on Disarmament Robert Wood said.
"It's another provocation by North Korea, they just seem to continue to happen," Wood told reporters in Geneva, before a session of the UN-sponsored Conference on Disarmament. "This is a big concern of course to my government and to a number of other governments."
North Korean Ambassador Han Tae-song told the session the US was driving the Korean Peninsula "towards an extreme level of explosion" by deploying strategic assets and conducting nuclear war drills.
Chinese Ministry of Foreign Affairs spokeswoman Hua Chunying (華春瑩) said the crisis was "approaching a critical juncture," but it was also maybe a turning point to open the door to peace talks.
The South Korean military said the missile was launched from near Pyongyang just before 6am and flew 2,700km, reaching an altitude of about 550km.
Four South Korean fighter jets yesterday bombed a military firing range after South Korean President Moon Jae-in asked the military to demonstrate capabilities to counter North Korea.
South Korea and the US had discussed deploying additional "strategic assets" on the Korean Peninsula, the presidential Blue House said in a statement, without giving more details.
North Korea remained defiant.
"The US should know that it can neither browbeat the DPRK [Democratic People's Republic of Korea] with any economic sanctions and military threats and blackmail nor make the DPRK flinch from the road chosen by itself," North Korea's state-run Rodong Sinmun said.
Japanese Chief Cabinet Secretary Yoshihide Suga said the latest missile fell into the sea 1,180km east of Cape Erimo on Hokkaido.
TV and radio broadcasters broke into their regular programming with a "J-Alert" warning citizens of the missile launch.
Bullet train services were temporarily halted and warnings went out over loudspeakers in towns in Hokkaido.
The Japanese military did not attempt to shoot down the missile, Japanese Minister of Defense Itsunori Onodera said.
The missile might have broken into three pieces, but that was not clear, he said.
Australian Prime Minister Malcolm Turnbull said China needed to do more.
"China has to ratchet up the pressure," Turnbull told Australian radio. "They have condemned these missiles tests like everyone else, but with unique leverage comes unique responsibility."
China said it opposed North Korea defying UN resolutions, adding that sanctions and pressure could not fundamentally solve the issue.
The only correct way to resolve the issue is via talks to address each other's reasonable security concerns, Hua told reporters.
"The UN Security Council has put through several resolutions and sanctions have all along been put in place, but everyone can see whether they've had actual results," she said. "On the one hand, sanctions have continued to be put in place via resolutions and on the other hand North Korea's nuclear and missile launch process is still continuing."
Comments will be moderated. Keep comments relevant to the article. Remarks containing abusive and obscene language, personal attacks of any kind or promotion will be removed and the user banned. Final decision will be at the discretion of the Taipei Times.