Taipei Universiade: Nation wins run of golds as Games end
BONANZA: The nation won four badminton golds, taking it to third place in the medals table, with world No. 1 Tai Tzu-ying beating Lee Jangmi to win the women's singles
Taiwan's medal tally at the Taipei Summer Universiade yesterday surged to 26 gold medals, 34 silvers and 30 bronzes following extraordinary performances by the nation's badminton, table tennis and tennis teams on the final day of competition in most sports.
As of press time last night, the nation was third on the medal stable, with Japan first and South Korea second.
In badminton, Wang Chi-ling (王齊麟) and Lee Chia-hsin (李佳馨) won gold in the mixed doubles final. Although they lost the first game 21-12 to Malaysia's Nur Mohd Azyriyn Ayub and Goh Yea Ching, Wang and Lee secured first place by winning the remaining games 21-16, 21-14.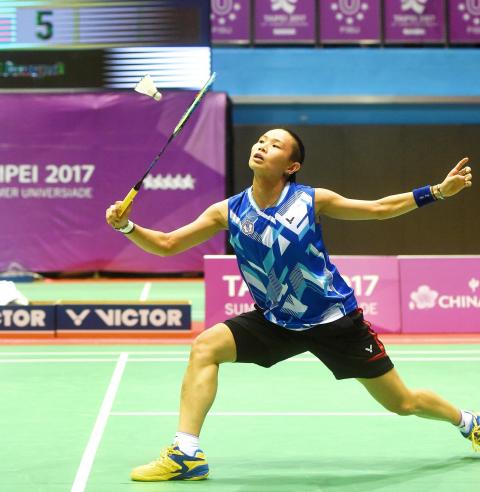 Taiwan's Tai Tzu-ying reaches to return in her women's singles final badminton match against Lee Jangmi of South Korea yesterday to win the gold medal.
Photo: Fang Pin-chao, Taipei Times
The winning momentum continued as world No. 1 Tai Tzu-ying (戴資穎) clinched another gold medal by toppling South Korea's Lee Jangmi in straight sets 21-9, 21-13 in 22 minutes.
Tai dominated the gold-medal match, confounding her opponent with various strategies.
Lee Jangmi had lost to Tai in the semi-finals of this year's Badminton Asia Championships and at the 2012 BWF World Junior Championships.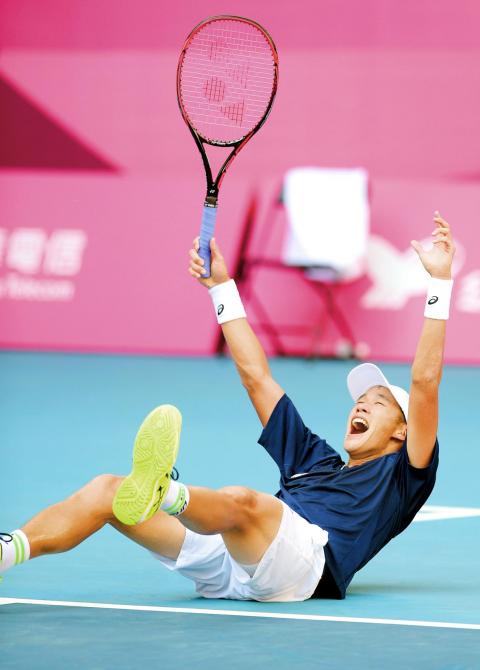 Taiwan's Jason Jung celebrates yesterday after beating South Korea's Hong Seongchan in the men's tennis singles final at the Taipei Summer Universiade.
Photo: Chang Chia-ming, Taipei Times
Tai, who won bronze and silver in previous Universiades, did not drop a game on her way to gold in Taipei.
Wang Tzu-wei (王子維) extended the "gold rush" by delivering the nation's third badminton gold, crushing Japan's Kenta Nishimoto 21-15, 21-16 in 36 minutes.
Late last night, Hsu Ya-ching (許雅晴) and Wu Ti-jung (吳玓蓉) won the fourth badminton gold of the day in the women's doubles final against Thailand's Chayanit Chaladchalam and Phataimas Muenwong.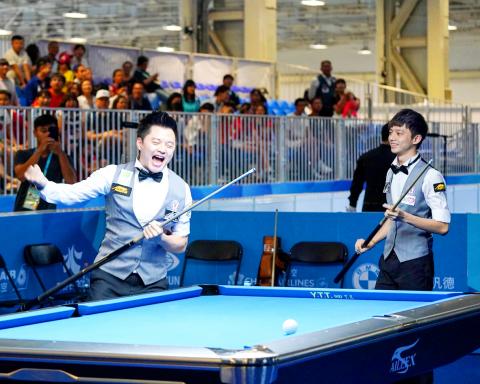 Taiwan's men's doubles billiards team member Ko Ping-yi, left, celebrates a shot as his brother and doubles team partner Ko Ping-chung, right, looks on during the final against Japane at the Taipei Summer Universiade yesterday. The Ko brothers went on to win gold.
Photo: CNA
Taiwan's Lee Yang (李洋) and Hsu Ya-ching (許雅晴), and Russia's Rodion Alimov and Alina Davletova shared bronze in mixed doubles, while Chiang Mei-hui (江美惠) and Malaysia's Yang Li-lian shared bronze in women's singles.
In tennis, Jason Jung (莊吉生) reached his goal of winning men's singles gold at his first Universiade, by beating South Korea's Hong Seongchan in straight sets. Like Tai, Jung did not drop a set on his way to securing gold.
In the women's singles, Lee Ya-hsuan (李亞軒) took silver after losing 6-7 (5/7), 6-4, 1-6 to Thailand's Varatchaya Wongteanchai in a three-hour uphill battle.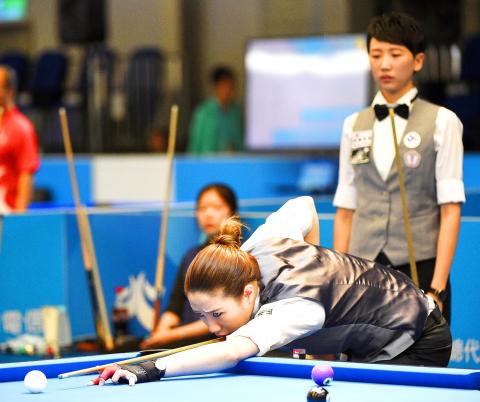 Taiwan's Wei Tzu-chien, left, lines up a shot as her billiards doubles partner Kuo Szu-ting looks on during a final against South Korea at the Taipei Summer Universiade yesterday. Wei and Kuo went on to win gold.
Photo: Chen Chih-chu, Taipei Times
After the loss, Lee Ya-hsuan buried her face in a towel and broke into tears, later saying that she was sorry for letting her supporters down.
"I would be lying if I said I never thought about quitting, but people came and cheered for me. My coach supported me," she said. "I really had no reason to quit. I would fight until the end, unless I fell on the ground and could not get up."
In table tennis, Cheng I-ching (鄭怡靜) made history as the nation's first women's singles finalist at a Universiade. She took silver after losing to South Korea's Jeon Jihee 11-5, 5-11, 10-12, 11-7, 9-11, 8-11
Taiwan's Wang Chi-lin, left and Lee Chia-hsin battle against Malaysia's Nur Mohd Azriyn Ayub and Goh Yea Ching to win the gold in yesterday's Taipei Summer Universiade badminton mixed doubles final.
Photo: Fang Pin-chao, Taipei Times
Before Cheng's feat, the nation's best record was set by Huang Yi-hua (黃怡樺), who reached the semi-finals in 2009.
Chen Chien-an (陳建安) also had a personal best at a Universiade by reaching the men's singles final. He took silver after losing to Japan's Masataka Morizono 6-11, 11-6, 7-11, 8-11, 8-11.
Taiwan yesterday swept the team titles in billiards to add two gold medals.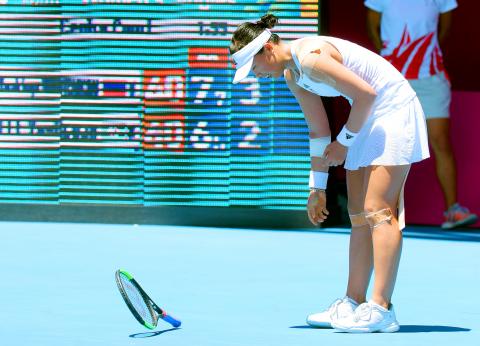 An injured Lee Ya-hsuan drops her racket during her women's singles tennis match against Thailand's Wongteanchai at the Taipei Summer Universiade yesterday. Lee lost the game one set to two to take the silver medal.
Photo: Chang Chia-ming, Taipei Times
In women's 9-ball doubles, Wei Tzu-chien (魏子茜) and Kuo Szu-ting (郭思廷) faced off against South Korea's Jang Yoon-hye and Jeong Eun-su at the Taipei Flora Expo Dome.
Wei, a student at Min Chuan University, and Kuo, who is enrolled at the University of Taipei, have over the past few years competed at the Amway Cup and other international competitions. They racked up a 9-3 win against the Jang and Jeong for the gold.
In wushu, Taiwan's Hsu Kai-kuei (許凱貴) won gold in men's combined taolu.
He scored 9.56 for his nanquan routine, which, when added to his 9.62 in nangun on Sunday, secured him first place overall.
In men's 9-ball doubles, rising stars Ko Ping-yi (柯秉逸) and Ko Ping-chung (柯秉中) took on Japan's Kengo Suzuki and Takayuki Shishido in the final.
The Ko brothers of coastal Shengang Township (伸港) in Changhua County, who are students at Taipei University of Marine Technology, overpowered their opponents to take a 10-4 victory for gold.
"We are elated to have won the gold medal and hope to build upon this success for good results in future international competitions," Ko Ping-chung said. "We would like to see more support for the nation's cue sports players to shine in big events."
In other billiards finals yesterday, Mongolia's Narantuya Bayarsaikhan and Uyanga Battulga took home bronze with a 9-3 triumph over Singapore's Ong Rui-yi and Sarah Wong in women's 9-ball doubles.
Norway's Eirik Riisnaes and Matias Saetre prevailed over Singapore's Leong Jun-jie and Hwang Mo-chi for bronze in men's 9-ball doubles.
In rounds on Sunday, Taiwan's Hsu Jui-an (許睿安) beat compatriot Liu Cheng-chieh (劉政杰) 11-3 for gold in the men's 9-ball singles, while Ku Cheng-chin (古正晴) defeated Mongolia's Narantuya Bayarsaikhan 9-6 for first place in women's 9-ball singles.
Lin Shang-yi (林上義), head coach of the nation's billiards team, said he was satisfied with the results, as Taiwanese athletes pocketed four golds, one silver and one bronze.
"We have proved to everyone at the Universiade that Taiwan is very strong in this event, and we want to improved government policies and public support to help develop cue sports," Lin said. "Today we have shown that Taiwanese pool players have the capability and determination to give their best when thrust into the limelight, and can prove that we are among the best in the world."
Comments will be moderated. Keep comments relevant to the article. Remarks containing abusive and obscene language, personal attacks of any kind or promotion will be removed and the user banned. Final decision will be at the discretion of the Taipei Times.