Taipei Universiade: Taiwan must conform to IOC rules, FISU says
International University Sports Federation (FISU) president Oleg Matytsin yesterday said the term "Chinese Taipei" has been used for Taiwan's Taipei Summer Universiade teams because the federation must conform to the International Olympic Committee's (IOC) Olympic Movement rules.
Matytsin made the remark at a news conference in Taipei yesterday, a few hours before the Universiade opening ceremony.
He said that delegations from 141 countries, including 7,746 athletes and 3,796 support staff, would be attending the Universiade this year.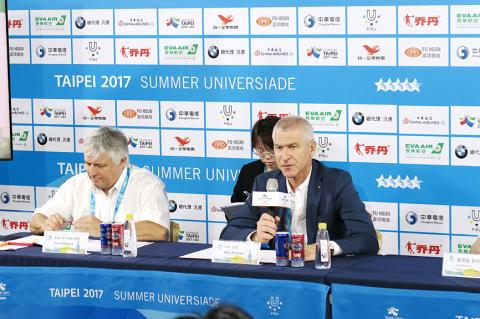 International University Sports Federation president Oleg Matytsin, right, speaks at a news conference in Taipei yesterday.
Photo: CNA
As of Friday, 119 delegations, including 5,477 athletes and 2,619 support staff, had arrived.
The official Universiade media guide had used "Chinese Taipei," but later changed it to "Taiwan" after legislators and the public expressed their discontent.
Earlier this month, the Universiade Organizing Committee said that the term "Chinese Taipei" was changed by the federation during a content review, but the committee changed it back to "Taiwan" in the geographical introduction section of the guide, and informed the federation.
Yesterday, Matytsin said the media guide was not "corrected" and the change to "Taiwan" was decided on to introduce the country and its outlying islands.
The federation is an IOC-recognized organization, so it has to conform to the Olympic Movement rules and regulations, he said, adding that he knows many people are disappointed about using "Chinese Taipei," but the rules must be followed. The flag and team logo must remain as "Chinese Taipei."
"Respect the rules," Matytsin said. "Today, I believe it's very important to educate people how to play according to the rules."
Matytsin said Taipei has provided high-quality accommodation to athletes and support staff from around the world, and the passion and hospitality shown in Taipei are considered gold-medal standard.
For the young athletes attending the Universiade it will be a positive experience and they will likely remember Taipei if they go on to become leaders in sports, business or politics, he said.
Comments will be moderated. Keep comments relevant to the article. Remarks containing abusive and obscene language, personal attacks of any kind or promotion will be removed and the user banned. Final decision will be at the discretion of the Taipei Times.