Taiwan to submit letter of request to US for fighters
LOCKHEED AND STOCK: While is somewhat easy for Taiwan to purchase US missiles and munitions, buyibng new platforms, such as fighters, is more difficult, officials said
Taiwan is to submit a letter of request to purchase Lockheed Martin F-35 jets, top defense officials told their US counterparts at the Monterey Talks in Hawaii last week, the highest-level defense dialogue between the two nations.
Although US officials prior to the talks privately urged Taiwanese officials on several occasions to forgo asking for the jets, National Security Council Deputy Secretary-General York Chen (陳文政) told them at the meeting that Taiwan remains committed to the request, an anonymous government source said.
US officials were cited by the source as saying that US President Donald Trump's administration cannot agree to sell Taiwan the fighters, and the nation should consider its defense needs pragmatically.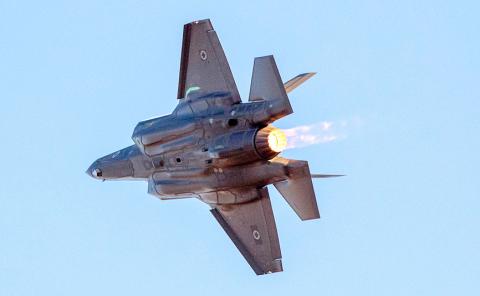 An Israeli Air Force F-35 Lightning performs at an air show at Hatzerim Air Force Base in the Negev Desert, Israel, on June 29.
Photo: AFP
The delegation was headed by Chen, Vice Minister of National Defense Admiral Pu Tze-chun (蒲澤春) and Major General Hung Kuang-ming (洪光明), the deputy military attache.
The US officials at the meeting included US National Security Council Senior Director for Asian Affairs Mathew Pottinger and US Acting Assistant Secretary of Defense David Helvey.
No senior US Department of State officials attended.
The US officials said all arms sales to Taiwan approved by the Trump administration have been weaponry or equipment requested from former-US president Barrack Obama's administration, the source said.
Taiwanese officials were told that the request for F-35 jets would require a new letter that must be evaluated by the departments of state and defense, the source said.
While it is relatively easy for Taiwan to buy stockpiled missiles and other munitions, it is considerably more difficult to buy new platforms, they said.
Furthermore, the US government does not encourage foreign governments to submit letters of request for arms that the US has expressed a disinterest in selling, the source said.
When Chen spoke of how Chinese military aircraft have been skirting Taiwan's airspace, Pottinger said the US "understands" Taiwan's position, but did not elaborate.
Taiwanese officials asked the US to begin cooperation of cyber security and requested assistance for an indigenous submarine program, the source said.
Admiral Harry Harris — commander of US Pacific Command — was not at the talks, but met the delegation separately at the Pacific Command headquarters, the source said.
This story has been corrected since it was first published.
Comments will be moderated. Keep comments relevant to the article. Remarks containing abusive and obscene language, personal attacks of any kind or promotion will be removed and the user banned. Final decision will be at the discretion of the Taipei Times.