Chinese barred from study at NCKU: reports
INDEPENDENCE ISSUE: A university official said that it is not part of any Taiwanese independence activities, adding that it welcomes all students who have qualified
Chinese students applying to study at National Cheng Kung University (NCKU) were reportedly denied travel documents by Chinese authorities, who say the institution supports Taiwanese independence.
A document seen on social media on Friday reportedly issued by China's Taiwan Affairs Office (TAO) asked secondary schools to advise students applying to study in Taiwan to reconsider their decision, as the cross-strait relationship is "tight, complex and sensitive."
"It is regrettable if the document is official," Mainland Affairs Council Deputy Minister Chiu Chui-cheng (邱垂正) said, adding that China should not impede or restrict applications to study in Taiwan.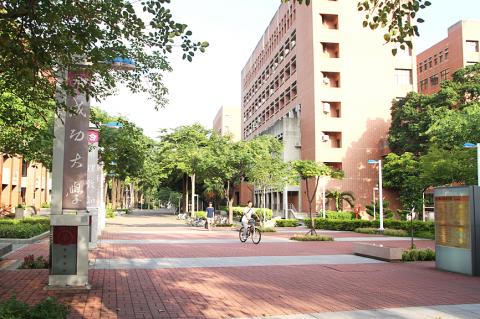 The National Cheng Kung University campus is pictured yesterday.
Photo: CNA
TAO spokesman Ma Xiao-guang (馬曉光) yesterday said that his agency was doing its job by reminding students of the current cross-strait situation.
Ministry of Education Department of International and Cross-strait Education Director-General Bi Tzu-an (畢祖安) said he noticed similar information spreading, mainly from China's Fujian and Jiangsu provinces.
The nation's policies regarding cross-strait education links have been eased in recent years, creating a friendly environment for Chinese students, Bi said.
The department has been communicating with its counterpart in China, expressing its hope that Beijing would not issue such "reminders," because they might affect interactions among young people from both sides, he said.
Meanwhile, a Chinese student said his application for travel documents to study in Taiwan was denied by the Chinese government because National Cheng Kung University, to which he applied, was identified as a supporter of Taiwanese independence.
Many other students from Fujian, Jiangsu and Hubei provinces, as well as some in Beijing, received calls from the TAO either advising against or forbidding them from studying at Taiwanese universities, the student said.
Chinese students applying to study at National Chengchi University, National Tsing Hua University or National Chiao Tung University reported receiving such calls, but those applying for Cheng Kung University were particularly targeted, reports said.
Nonetheless, another student from Guangzhou seeking to enroll at Cheng Kung University said they obtained travel documents without issue.
National Cheng Kung University secretary-general Lee Ching-chang (李俊璋) denied that the university is involved in any activities supporting Taiwanese independence.
"The university welcomes all students who have passed the exams, whether they are Taiwanese or not," Lee said.
If a non-Taiwanese student fails to finish the registration procedure by the deadline, the university would consider their situation and might reserve their position for one year, he said.
Comments will be moderated. Keep comments relevant to the article. Remarks containing abusive and obscene language, personal attacks of any kind or promotion will be removed and the user banned. Final decision will be at the discretion of the Taipei Times.