Aborigines decry 'failed' rights promise
TSAI CRITICIZED: Filmmaker Mayaw Biho said the Cabinet should set up a committee like the one probing the KMT's assets to look into the deprivation of Aboriginal rights
Aboriginal rights campaigners yesterday condemned the government for having not carried out a promise to reinstate traditional Aboriginal territories, and they demanded that an independent agency be established to restore Aboriginal rights to land and transitional justice.
President Tsai Ing-wen (蔡英文) on Aug. 1 last year delivered a landmark apology to Taiwan's Aborigines for their deprivation of rights in the hundreds of years since the mass migration of Han people began.
She promised to reinstate land rights, self-determination, economic development, cultural and language preservation and other rights protection.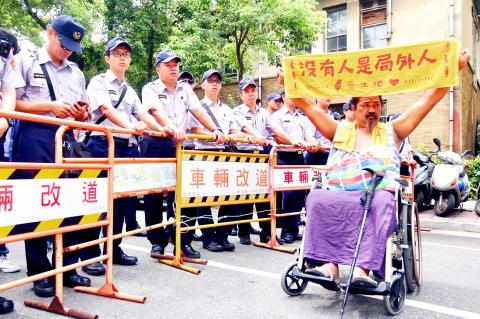 Singer Nabu Husungan Istanda, a Bunun, yesterday holds a banner calling for full Aboriginal land rights in front of a police barrier about 100m from the venue of the National Administration Conference of Indigenous Peoples in Taipei.
Photo: CNA
Tsai yesterday said the government has worked to preserve Aboriginal languages and culture by immersing Aboriginal preschoolers and students in a learning environment where their native languages are spoken.
Aboriginal campaigners who have been staging a camp-out near the Presidential Office Building in Taipei for 160 days said Tsai had failed to keep her promises to restore Aboriginal rights.
They criticized the guidelines the Cabinet released on Feb. 14 on the delineation of traditional Aboriginal territories, which would restrict the application of the "traditional area" label to government-owned land, explicitly excluding private land.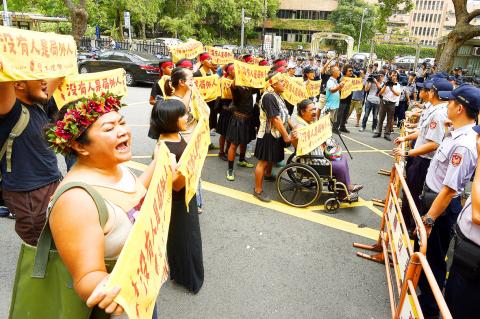 Amis singer Panai Kusui, front left, Bunun singer Nabu Husungan Istanda, in wheelchair, and other Aboriginal land rights campaigners hold banners in Taipei yesterday as they face a police barrier about 100m from the venue of yesterday's National Administration Conference of Indigenous Peoples.
Photo: Chen Chih-chu, Taipei Times
It would reduce recognized traditional territories from 1.8 million hectares to 800,000 hectares while companies would be allowed to develop traditional Aboriginal land that is now in private hands without the consent of local Aborigines, they said.
"Tsai promised that the government would prioritize the issue of traditional territories, but it turns out it is only limited to government-owned land," Amis activist Panai Kusui said.
Documentary filmmaker Mayaw Biho, an Amis who has been an active member of the camp-out, called on the government to legislate an Aboriginal transitional justice law and establish an agency similar to the Cabinet's Ill-gotten Party Assets Settlement Committee to investigate the deprivation of Aboriginal rights.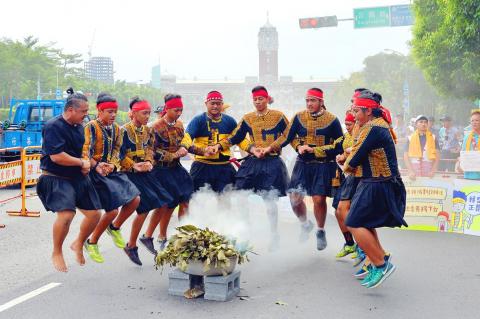 Aboriginal Transitional Justice Classroom supporters yesterday perform a ritual Rukai dance on Ketagalan Boulevard near the Presidential Office Building in Taipei during a protest against President Tsai Ing-wen's government.
Photo: CNA
That would be a way to achieve understanding and reconciliation, he said.
The Presidential Office's Indigenous Historical Justice and Transitional Justice Committee, which was established last year to understand the history of Aboriginal rights deprivation and reinstate those rights, does not have the necessary executive or investigative powers to perform its functions, Mayaw said.
"It is an irresponsible reform if the ruling party acts like it has done a lot and put in a great deal of effort in an effort to convince the public it is trying to tackle a problem," Sunflower movement leader Lin Fei-fang (林飛帆) said.
Lin criticized Presidential Office Deputy Secretary-General Yao Jen-to (姚人多) and Democratic Progressive Party Legislator Kolas Yotaka for saying that the protesters do not respresent the nation's Aborigines.
"Why can a person in power [Yao] be so careless about his authority, but treat protesters in quite a different way? What is the difference between the government and the Chinese Nationalist Party [KMT]?" Lin said.
The Executive Yuan said that efforts are under way to provide further protection to Aboriginal languages, land and resource rights.
The president has held talks with Aboriginal delegates, and the traditional territories delineation guidelines and landmark Aboriginal Language Development Act (原住民族語言發展法) have been promulgated, while legal rulings have been made to ensure that Aborigines could practice traditional hunting, fishing and harvesting, the Executive Yuan said.
The Cabinet has also completed the preliminary investigation into a government decision to deposit nuclear waste on Orchid Island (蘭嶼, Lanyu) without the knowledge and consent of the local Tao community when Chiang Ching-kuo (蔣經國) and Sun Yun-suan (孫運璿) were premier.
The Cabinet will create an institutional environment for the development of Aboriginal cultures and achieve transitional justice and harmony between ethnic groups, the Executive Yuan said.
Comments will be moderated. Keep comments relevant to the article. Remarks containing abusive and obscene language, personal attacks of any kind or promotion will be removed and the user banned. Final decision will be at the discretion of the Taipei Times.