Two killed, hundreds injured as quake shakes Greek, Turkish tourist resorts
A magnitude 6.7 undersea earthquake yesterday hit the Greek holiday island of Kos and the Turkish resort of Bodrum, killing two people and injuring hundreds in areas abuzz with nightlife.
The epicenter of the quake was about 10km south of Bodrum, a magnet for holidaymakers, and 16km east of Kos, the US Geological Survey said.
"[There was] this loud rumbling noise and we all ran out ... my four friends fell to the ground due to the place shaking so much," 18-year-old Briton Harriet Longley told reporters in Kos.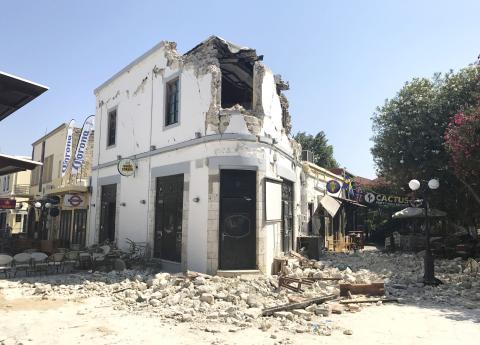 A partially collapsed house is pictured after an earthquake on the island of Kos, Greece, yesterday.
Photo: AP
Police said a 22-year-old Swede and a 39-year-old Turk died in an area full of cafes and nightclubs in Kos.
Another man from Sweden has apparently lost his legs.
They were found on the street, crushed either by the collapsed wall of a bar or by stones that fell from old houses nearby.
About 120 people were hurt in Kos, media reports said.
Seven people who were badly hurt — including the Swedish amputee — were flown to hospitals in Athens and Crete.
Turkish Minister of Health Ahmet Demircan said 358 people were hurt in Bodrum, of whom 272 were taken to hospitals in ambulances.
Of the victims, 25 remained in hospital, the minister said, adding that some had broken bones.
Many of the injuries were caused by people jumping out of building windows and falling after reacting in panic to the overnight quake, NTV broadcaster said.
Reports said the state hospital in Bodrum was evacuated after cracks appeared, with new patients being examined in a garden outside.
Television footage showed gutted stone buildings and streets filled with rubble on Kos. The quake, followed by a wave of aftershocks, also damaged an 18th century Ottoman mosque and cracked a dock in the port of Kos, which has been shut down.
A small tsunami sent fishing boats crashing into Kos Harbor and damaged cars in the resort of Gumbet outside Bodrum.
With Kos airport also temporarily shut down for safety tests, hundreds were forced to line up as several early morning flights were canceled or delayed.
The airport is now operating at full capacity, German handling company Fraport AG said.
"There is no panic, those leaving are on scheduled flights," an airport source said.
Fraport said checks for damage had been carried out on the runway and other airport facilities.
"There have been no injuries or serious damage, while the areas where minor [damege] occurred are already being restored," it said in a statement.
Greek government spokesman Dimitris Tzanakopoulos said damage elsewhere was minimal.
"Things on the island seem to be under full control and normality has returned," he told state television ERT. "The airport is operational and the roads are in good shape."
Comments will be moderated. Keep comments relevant to the article. Remarks containing abusive and obscene language, personal attacks of any kind or promotion will be removed and the user banned. Final decision will be at the discretion of the Taipei Times.