Taiwan press freedom critical: RSF
Taiwan has a key role to play in addressing China's threat to press freedom, Reporters Without Borders (RSF) secretary-general Christophe Deloire said yesterday, as the organization launched its first East Asian bureau headquartered in Taipei.
"China wants to set up a new world media order and that's a vast campaign for China — the country regime wants to change the rest of the world before we succeed in changing China," Deloire said. "We consider Taiwan to have a key role to play making China change before China changes us."
"Taiwan is pure evidence that democracy and press freedom are possible in Chinese culture, and that is really one of the strongest arguments against claims by Beijing authorities their system is really adapted to Chinese culture. Taiwan is probably one of the societies which is most able to exercise an influence not only in China, but also throughout the rest of the world regarding this fight for democracy and press freedom in China," he said, adding that the bureau would be charged with monitoring regional press freedom and engaging in government advocacy, as well as taking responsibility for regional publications, activities and fundraising.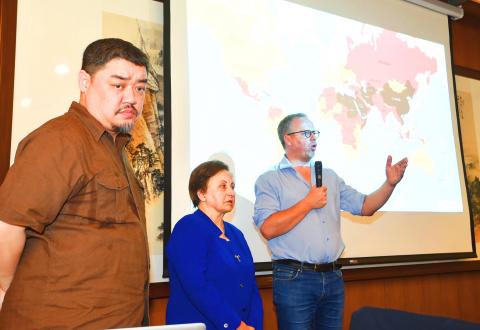 From left, Chinese democracy activist Wuer Kaixi, Nobel laureate Shirin Ebadi and Reporters Without Borders secretary-general Christophe Deloire, members of the non-governmental organization's Emeritus Board, attend a news conference in Taipei yesterday announcing the launch of the group's first East Asian bureau in Taipei.
Photo: Fang Pin-chao, Taipei Times
RSF's decision to base its bureau in Taiwan has drawn attention as a potential trend away from using Hong Kong as a regional base for the operations of non-governmental organizations, with Freedom House reportedly also considering setting up a regional office in Taichung.
"We chose to open the office in Taipei rather than in Hong Kong because of legal safety and security considerations — there were risks of surveillance against our team in Hong Kong, but not in Taipei," Deloire said. "Taiwan is also the best area in the whole area in the whole region for press freedom, so it also made sense to set up our office here."
Taiwan was this year ranked 45th out of 180 nations in RSF's World Press Freedom Index, compared with South Korea (63), Japan (72) and Hong Kong (73) making it the only nation in the region ranked as "fairly good" instead of "problematic," "bad" or "very bad."
"We do not consider Taiwan's situation perfect, because we do consider there to be a clear lack of independence of newsrooms from boardrooms and owners. There is also even a risk — and sometimes the risk is already a reality — of Chinese interference on the editorial line of media outlets," Deloire said, calling for the removal of criminal penalties from the nation's defamation laws.
Taipei was chosen over Taichung and Kaohsiung "because it's the capital and it's easier to come and meet people," Deloire said, adding that he would like to see the bureau hire up to seven people within five years.
RSF Taipei bureau director Cedric Alviani said the group was still completing its government registration, with the Taipei Department of Information and Tourism still preparing the bureau's office space, which should open by year's end.
The Cabinet yesterday welcomed and congratulated the RSF on its announcement of plans to open its first Asia bureau in Taipei, an indication of Taiwan's achievements in democracy, Executive Yuan spokesman Hsu Kuo-yung (徐國勇) said.
Additional reporting by Chen Wei-han
Comments will be moderated. Keep comments relevant to the article. Remarks containing abusive and obscene language, personal attacks of any kind or promotion will be removed and the user banned. Final decision will be at the discretion of the Taipei Times.