Pioneer Taiwanese pilot dies in plane crash in California
The first Taiwanese pilot to circumnavigate the globe in a single-engine airplane died on Friday after the small plane he was flying crashed at San Gabriel Valley Airport in El Monte, California, the Ministry of Foreign Affairs said yesterday.
Jeffrey Ying (應天華), 63, was the first pilot from the US' Chinese-speaking community to fly around the world in a single-engine airplane in July 2010.
Ying, a Taiwanese expatriate, had been running a fleet of planes with his friends in the US, who also flew the aircraft annually for Double Ten National Day celebration events at Monterey Park in California since 2011, Chinese American Pilots and Aircraft Owners Association director James Bu (卜君力) said.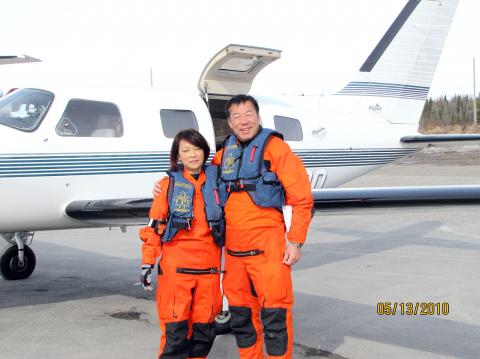 Taiwanese pilot Jeffrey Ying and his wife, Renee Chen, stand beside an airplane at an undisclosed location in an undated photograph.
Photo: CNA
The crashed plane had a Republic of China national emblem painted on the fuselage and was similar to a decommissioned air force trainer aircraft.
The cause of the crash was likely related to mechanical problems, the ministry said, adding that it would provide Ying's family whatever assistance it needed.
The Los Angeles Times said that Ying's Pazmany PL-2 took off at about 9:30am, but crashed shortly afterward.
Video broadcast by local TV news outlets from the scene at a corner of the airport showed the aircraft's nose flattened at an angle and its left wing crumpled.
Ying, who had more than 2,000 hours of flight experience, acquired the PL-2 many years ago, Bu said.
Ying remodeled the plane to look like a Taiwanese trainer and painted the code 5858 himself, Bu said.
In 2010, Ying and his wife, Renee Chen (陳小平), took 82 days to fly 41,843km across 26 countries. Ying became the 166th person to accomplish the endeavor, the Chinese-language United Daily News said.
Comments will be moderated. Keep comments relevant to the article. Remarks containing abusive and obscene language, personal attacks of any kind or promotion will be removed and the user banned. Final decision will be at the discretion of the Taipei Times.