Pxmart president Hsu to step down in September
Pxmart Co Ltd (全聯實業), which operates one of the nation's largest supermarket chains, yesterday confirmed that company president Hsu Chung-jen (徐重仁) would retire in September.
Hsu — who has been in charge of Pxmart since 2014 — is to step down from the management team next month and officially retire by the end of September, the company said in a statement, citing personal career planning reasons.
Hsu, who has worked in the retail industry for more than 30 years, is also known for turning President Chain Store Corp (PCSC, 統一超商) into the nation's largest convenience store chain operator, serving as its president prior to joining Pxmart.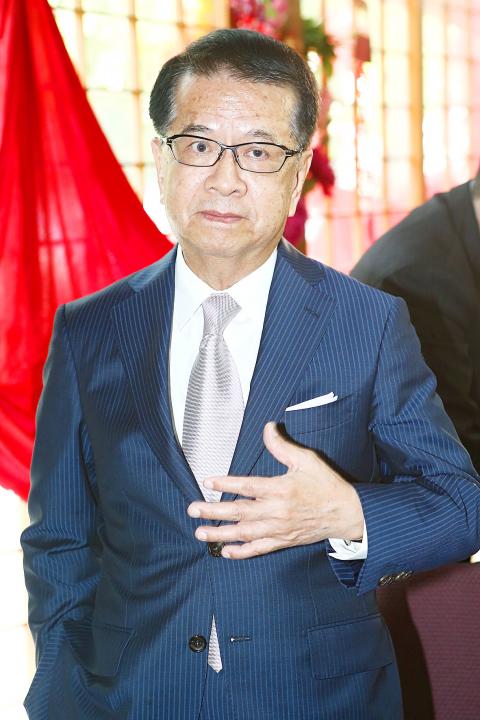 Pxmart president Hsu Chung-jen is pictured on Jan. 11. Hsu is to retire in September.
Photo: Chen Yi-kuan, Taipei Times
Pxmart named CEO James Hsieh (謝健南) as president, saying he would lead its expansion plans.
Hsieh previously served as chief operating officer of PCSC and as CEO of Gourmet Master Co (美食達人), which operates popular cafe and bakery chain 85°C (85度C)
Hsu is stepping down because he and Pxmart chairman Lin Ming-hsiung (林敏雄) disagree about the company's future plans, the Chinese-language Economic Daily News reported.
However, at a news conference yesterday, Hsieh denied the report, saying that Hsu had as early as last year decided to retire.
"The company's long-term operations objective will not change, but we might take different measures [to achieve it]," Hsieh said.
Pxmart, which operates 910 outlets nationwide, said it aims to increase the number of its stores to 1,000 and boost annual sales from about NT$101 billion (US$3.33 billion) last year to more than NT$200 billion.
The company's brand image has taken a beating since comments by Hsu about low salaries sparked a backlash among young people.
At a book launch in April, Hsu accused young people of "spending beyond their means on trips abroad and the latest mobile phones," saying that the younger generation should endure low wages rather than complain.
He later apologized on Facebook after the company's page was bombarded with irate messages from young people.
Pxmart last month apologized to film director Wu Nien-jen (吳念真), who complained on Facebook about the company's use of his image in marketing materials without asking for his permission.
Comments will be moderated. Keep comments relevant to the article. Remarks containing abusive and obscene language, personal attacks of any kind or promotion will be removed and the user banned. Final decision will be at the discretion of the Taipei Times.