Tsai slams FSC for avowal of new SinoPac chairman
OVERSIGHT: The commission should be more careful with its choice of words in news releases, the secretary-general said after Tsai expressed her concerns at a CSC meeting
The Financial Supervisory Commission's (FSC) affirmation of SinoPac Financial Holdings Co (永豐金控) board director Paul Chiu's (邱正雄) eligibility to become chairman as was "a confusion of the commission's role," President Tsai Ing-wen (蔡英文) said yesterday.
Chiu yesterday was appointed chairman following an extraordinary meeting of the board of directors.
He had been named acting chairman on Saturday, a day after prosecutors raided the company's offices as well as the homes of key executives allegedly involved in a series of severe lapses of governance.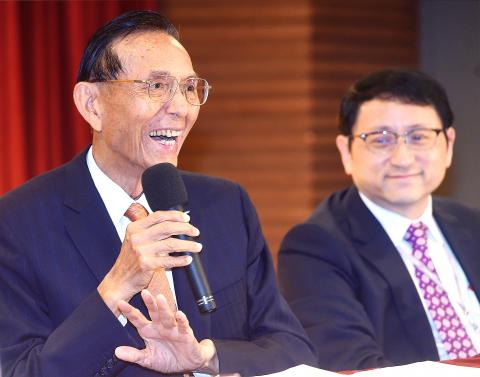 Then-SinoPac Financial Holding Co acting chairman Paul Chiu, left, speaks at a news conference on Sunday. Chiu was elected chairman during an extraordinary meeting of the board of directors yesterday.
Photo: Liao Chen-huei, Taipei Times
Tsai made the remarks at a Democratic Progressive Party (DPP) Central Standing Committee (CSC) meeting after Vice Premier Lin Hsi-yao (林錫耀) delivered a report on an investigation into over-lending by SinoPac, DPP spokesman Chang Chih-hao (張志豪) said.
The government would not close the investigation until those responsible are identified and investigated, Lin said.
It was improper of the commission to use the word "affirm" in its news release, CSC member Chen Ming-wen (陳明文) said.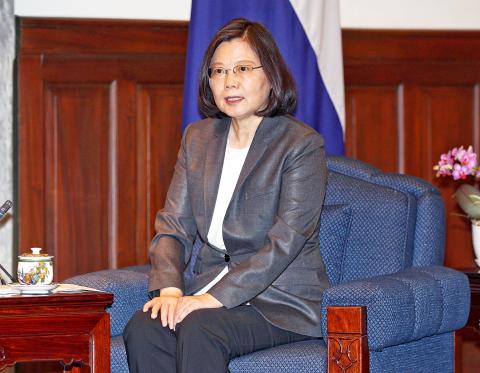 President Tsai Ing-wen yesterday speaks at a reception for Honduran First Vice President Ricardo Antonio Alvarez Arias at the Presidential Office in Taipei.
Photo: CNA
New Power Party (NPP) Executive Chairman Huang Kuo-chang (黃國昌) and DPP Legislator Tuan Yi-kang (段宜康) also questioned Chiu's eligibility to be chairman.
As Chiu was a member of the company's board when the over-lending occurred there was no reason Chiu would be eligible for the chairmanship, Huang said.
Tuan said on Facebook that it was "laughable" for SinoPac to appoint Chiu as chairman, adding that the Ho family was "in bed with" the higher echelons of the Chinese Nationalist Party (KMT), pointing to Chiu's appointments as vice premier, central bank deputy governor and minister of finance under former president Ma Ying-jeou (馬英九).
SinoPac Financial chairman Ho Shou-chuan (何壽川) was detained on Sunday for suspected violations of the Securities Exchange Act (證券交易法).
His request for bail was denied on Monday and he remains in detention under conditions of restricted communications and visits, aside from constitutionally guaranteed rights of consultation.
The investigation comes after the FSC in April fined SinoPac Financial NT$10 million (US$328,181) following the discovery that the company's leasing unit had extended NT$5 billion in questionable loans to Sun Power Development and Construction Co (三寶建設) — whose chairman is related to Ho's wife, Chang Hsing-ju (張杏如) — and handed its findings over to prosecutors.
The loans extended to Sun Power were allegedly transferred between shell companies controlled by SinoPac and Sun Power without sufficient collateral, which violates the limitations on transactions between interested parties, as the borrower had familial ties to Ho, the commission said.
FSC Secretary-General Jean Chiu (邱淑真) said Tsai's expression of concern meant the commission needed to be more careful with the language it uses in its news releases.
However, the commission's primary task is to provide oversight of financial institutions and maintain stability, Jean Chiu said.
That SinoPac's board held a meeting, appointed an acting chairman and pledged reforms relieved the public and offered stability, Jean Chiu said.
The commission had intended to show the SinoPac Financial board of directors support rather than offer an official endorsement, Jean Chiu said.
The company also appointed Lin Miao-zhen (林妙貞), who had previously worked at the lender's financial products group office, as a Bank SinoPac (永豐銀行) board director.
Additional reporting by Su Fang-ho and Ted Chen
Comments will be moderated. Keep comments relevant to the article. Remarks containing abusive and obscene language, personal attacks of any kind or promotion will be removed and the user banned. Final decision will be at the discretion of the Taipei Times.