DPP members at odds over foreign intern regulations
Democratic Progressive Party (DPP) lawmakers are divided over whether a draft bill to relax restrictions on foreign graduates seeking internships in Taiwan would create a loophole for firms to introduce cheap foreign workers and lower average salaries.
The Cabinet has proposed granting one-year visas to foreign college graduates within two years of their graduation and a two-year internship visa to specialists in the fields of science, technology, engineering and math.
At present, only current students can apply for internship visas, not graduates.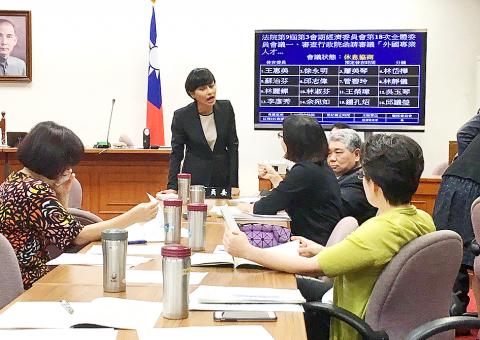 Democratic Progressive Party legislators Chiu Yi-ying, standing, and Lin Shu-fen, in black jacket with back to camera, on Wednesday last week at the Legislative Yuan argue about procedure regarding a draft law on the recruitment and employment of foreign specialists.
Photo: CNA
The bill would also relax constraints on residence and work permits, taxation, healthcare and retirement benefits to attract foreign white-collar workers to make up for a brain drain Taiwan is experiencing and boost the nation's competitiveness.
The Cabinet draft is under review at the legislature.
DPP Legislator Lin Shu-feng (林淑芬) on Monday said that the internship rules were only made to relieve "the shortage of cheap white-collar workers for businesses."
While businesses are required to pay at least NT$47,971 per month for a foreign white-collar worker, there is no minimum or maximum on intern salaries, which Lin said would allow businesses to hire cheap workers instead of high-salaried specialists.
The outflow of white-collar workers Taiwan is experiencing has been caused by wage stagnation, and easing rules on internship visas would only prolong the stagnation, Lin said.
"If foreign graduates are allowed to intern in Taiwan within two years of their graduation, will they take over low-level white-collar jobs?" Lin said on Facebook.
DPP Legislator Karen Yu (余宛如) has come under fire for her support of the Cabinet's proposal.
Yu said the National Development Council estimates that the relaxation would have a limited effect on Taiwan's labor market, and the legislation would only allow for an increase of 200 foreign interns per year.
There were only 458 foreign interns last year, and increasing that number would hardly affect the job market, regardless of the interns' salary level, Yu said.
"Is it not strange to link the wage stagnation problem of Taiwan's job market — which has more than 10 million workers — with that handful of foreign interns?" she said.
The law was drafted taking into account the immigration laws of other nations, she said.
Changes must be made to the industrial structure to enable Taiwan to compete in the future, she said.
Comments will be moderated. Keep comments relevant to the article. Remarks containing abusive and obscene language, personal attacks of any kind or promotion will be removed and the user banned. Final decision will be at the discretion of the Taipei Times.