Torrential rain floods northern areas
TRANSPORT INTERRUPTIONS: Operations were suspended at Songshan airport for more than two hours, while mudslides caused closures on Provincial Highway No. 2
A hovering front and southwesterly airstream yesterday dropped more than 600mm of rain over a few hours in the nation's northern coastal regions, killing one person and injuring five as of 8pm, authorities said.
The New Taipei City Fire Department said the torrential downpour caused 12 roads in the city to be closed, as well as schools and businesses in Bali (八里), Jinshan (金山), Sanjhih (三芝), Shihmen (石門), Tamsui (淡水) and Wanli (萬里) districts, adding that 256 people were evacuated and 156 were displaced.
New Taipei City Mayor Eric Chu (朱立倫) and New Taipei City Department of Social Affairs Director Chang Chin-li (張錦麗) visited Mackay Memorial Hospital in Tamsui to offer their condolences to the family of the deceased.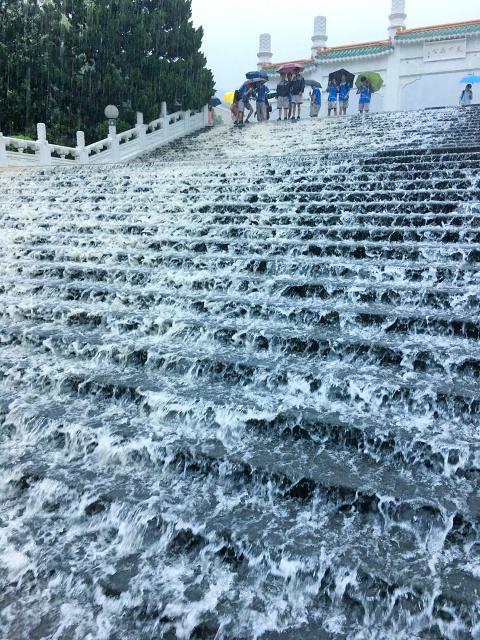 Water streams down the stairs leading to the National Palace Museum in Taipei yesterday.
Photo: Courtesy of a reader
Chu said he would authorize district and school administrators to decide when to reopen after assessing the situation.
The delay in closures triggered criticism from the public after the rain worsened, stranding many people.
Rainfall in Shihmen District measured 114mm per hour, nearly the national record of 128mm per hour in Alishan (阿里山), the city government said.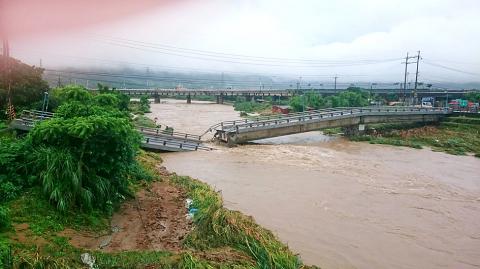 The Huangxi Bridge, which connected New Taipei City's San Jie Tan area with Jinshan Old Street, is pictured after being broken in half by flooding yesterday.
Photo: Courtesy of a reader
More than 185 areas nationwide reported flooding, while more than 10,000 households were left without electricity, officials said.
The Central Weather Bureau warned that the weather system would bring downpours nationwide, with torrential rain — accumulated rainfall of 350mm or more within 24 hours — or extremely torrential rain — 500mm or more over a 24-hour period — likely on the northern coast.
As of 4pm, accumulated rainfall in several districts of New Taipei City was classified as extremely torrential, reaching 643mm in Sanzhi, 630mm in Shihmen's Fuguijiao (富貴角), 572.5mm in Jinshan's Sanhe (三和) and 534mm in Jinshan, bureau data showed.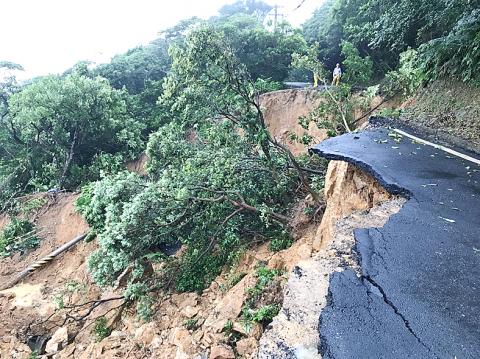 An industrial road connecting Keelung's Zhongshan and Anle districts is pictured after it collapsed due to torrential rainfall.
Photo courtesy of Keelung's Zhongshan District Office
Elsewhere, accumulated rainfall totaled 428mm in Kaohsiung's Taoyuan District (桃源) and 356mm in Taipei's Beitou District (北投), it showed.
President Tsai Ing-wen (蔡英文) and Premier Lin Chuan (林全) said that people in mountainous areas should be evacuated as a precaution to prevent them from being trapped when the weather system passes over southern Taiwan.
The Water Resources Agency said that, in addition to flooded areas in New Taipei City, Keelung's Jhongshan (中山), Renai (仁愛) and Xinyi (信義) districts were on a level 1 flood alert — imminent flooding if rain continues — and the Jhongjheng (中正), Anle (安樂) and Nuannuan (暖暖) districts were on a level 2 flood alert — possible flooding within three hours if rain continues.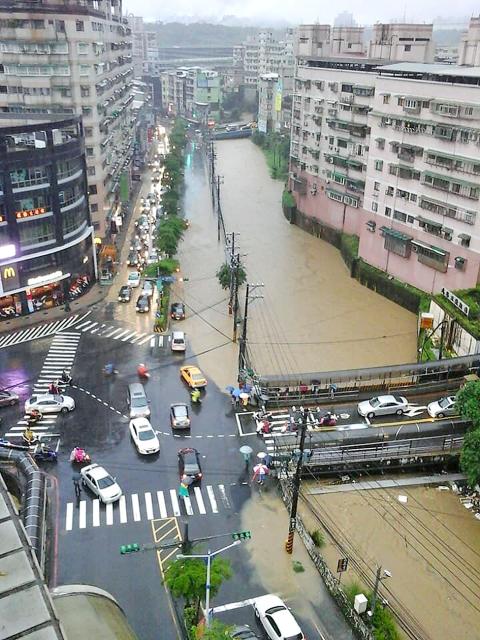 Jijin 1st Road in Keelung is submerged yesterday after the Wulun River overflowed yesterday and flooded the area.
Photo copied by Lin Chia-tung, Taipei Times
The Directorate-General of Highways (DGH) said that several sections of Provincial Highway No. 2, a major coastal roadway in northern Taiwan, have been closed indefinitely due to flooding and mudslides caused by the rain.
The affected areas are sections 15K-52K between New Taipei City's Sanjhih and Wanli; 67K-71K along Bisha Port (碧砂港) in Keelung; and 75K-84K between the coastal scenic areas of Ruibin (瑞濱) and Bitou (鼻頭) in New Taipei City, the DGH said.
The DGH urged motorists to avoid using those sections of the coastal highway over the next few days as workers clear debris and perform repairs.
A group of travelers yesterday walk past through the shopping area in Taoyuan International Airport Terminal 2 that is being cleaned up after being flooded by the torrential rain.
Photo: Chu Pei-hsiung, Taipei Times
Flights to and from Taipei International Airport (Songshan airport) resumed at 12:43pm after a two-and-a-half hour suspension due to heavy rainfall in Taipei, the Civil Aeronautics Administration (CAA) said.
A total of 137 flights were canceled or delayed at Songshan airport, including three flights that were unable to land and were redirected to airports in Taichung and Kaohsiung, the CAA said.
Taiwan Taoyuan International Airport suspended ground operations at 10:45am, when it issued a thunderstorm warning, the CAA said, adding that the alert was not lifted until 12:40pm.
As of 1pm, 20 commercial passenger flights and one cargo flight had been canceled, while another 17 commercial flights and one cargo flight were delayed, airport data showed.
Comments will be moderated. Keep comments relevant to the article. Remarks containing abusive and obscene language, personal attacks of any kind or promotion will be removed and the user banned. Final decision will be at the discretion of the Taipei Times.