Lee Ming-che arrested for subversion
'NOT THE LAST': As Lee is the first Taiwanese to be charged with 'subversion of state power' in China, the government has the responsibility to take action, groups said
Beijing late on Friday announced that Taiwanese human rights advocate Lee Ming-che (李明哲) is being held for suspected subversion of state power.
The Ministry of Justice yesterday demanded that Beijing inform Taipei of Lee's condition based on a cross-strait agreement to combat crime and cooperate on legal matters.
After the Chinese Ministry of State Security announced that Lee had been arrested, the justice ministry said it sent an e-mail to the Chinese Supreme People's Procuratorate demanding that Lee's physical health, security and litigation rights be protected during the investigation.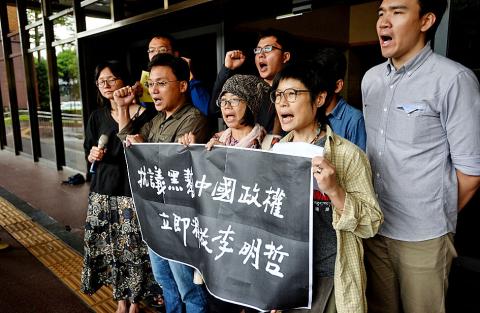 Members of non-governmental organizations yesterday gather in front of the Ministry of Justice in Taipei to demand that the government take action over China's detention of human rights advocate Lee Ming-che.
Photo: Lin Cheng-kung, Taipei Times
It said it also called on the Chinese authorities to allow Lee's relatives to visit him and to release him immediately after the investigation's completion.
The Straits Exchange Foundation yesterday also called on Chinese authorities to release evidence related to the case.
The foundation said it would continue to provide assistance to Lee's family and urged Beijing to protect Lee's rights to avoid damaging cross-strait relations.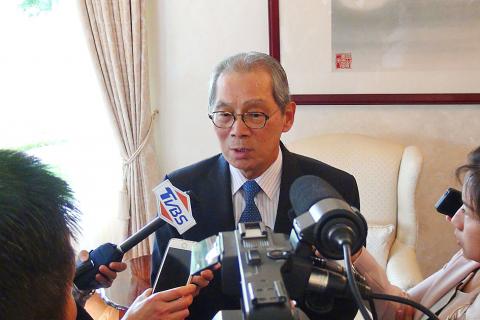 Taiwan's Representative to the US Stanley Kao on Friday in Washington comments on human rights advocate Lee Ming-che's detention by China.
Photo: CNA
Lee on March 19 went missing after entering China from Macau and was later confirmed to have been detained by Chinese authorities.
China's Taiwan Affairs Office spokesman An Fengshan (安峰山) said that Lee had been officially arrested on suspicion of "subversion of state power."
Lee has been detained in Hunan Province since March 19, An said, adding that he and "his partners in crime have directly confessed that they carried out activities that threaten our national security."
An said that an investigation found that Lee had since 2012 frequently traveled to China, and worked with Chinese to develop plans and establish an illegal ring to subvert Beijing.
Lee used to work for the Democratic Progressive Party (DPP) and is a staff member at Wenshan Community College in Taipei, as well as a volunteer at Covenant Watch, a non-governmental organization.
China had previously refused to provide details about his case, such as where he was being detained and what laws he was accused of violating.
Beijing has also refused to discuss Lee's case with Taiwanese authorities and has ignored requests to allow Lee's wife, Lee Ching-yu (李凈瑜), to visit him.
Lee Ching-yu and human rights groups have said that any "confessions" claimed by Beijing would likely be the result of coercion and have rejected suggestions that Lee Ming-che was involved in any activities in violation of Chinese law.
A group of Taiwanese civic groups — including the Taiwan Association for Human Rights, Covenant Watch, Taiwan Alliance to End the Death Penalty and the Judicial Reform Foundation — yesterday issued a statement calling on Beijing to grant people it arrested the right to counsel, see visitors and view documents, which are basic rights under Chinese law.
The Ministry of Justice should take action by immediately sending delegates to China to negotiate for Lee's release and make sure that he is safe and can hire a lawyer, the groups said.
Even if Chinese authorities intervene and bar the delegates from entering China, at least the nation would have made its appeals and position on the issue clear, they added.
Judicial Reform Foundation executive secretary Hsiao Yi-ming (蕭逸民) said the charge of "subversion of state power" is a pretext commonly used by Beijing to quash dissidents, and that people charged with this crime could face life sentences in the worst-case scenario.
Noting that Lee is the first Taiwanese arrested on the charge, Hsiao said the justice ministry has an unavoidable responsibility to take action, as Lee "will not be the last Taiwanese" to receive such treatment by China.
"Subversion of state power is a felony in China and imposing such a charge on a Taiwanese shows that China's infringement on foreign human rights advocates have become increasingly blatant," the groups' statement said, calling on more nations to pay close attention to China's behavior.
Considering the timing of Beijing's news release on Friday night ahead of the Dragon Boat Festival, Wenshan Community College principal Cheng Hsiu-chuan (鄭秀娟) questioned China's intentions, saying that it was purposefully dodging attention as people prepare for the holidays.
Separately yesterday, Deputy Legislative Speaker Tsai Chi-chang (蔡其昌) said the "prison without trial" approach China is using only hurt the feelings of people across the Taiwan Strait and induced fear in Taiwanese visiting China.
Comments will be moderated. Keep comments relevant to the article. Remarks containing abusive and obscene language, personal attacks of any kind or promotion will be removed and the user banned. Final decision will be at the discretion of the Taipei Times.