Wu Den-yih wins KMT chair election
APATHY: KMT headquarters said that voter turnout was 58.03%, a 1.71% rise from the turnout for its chairperson election last year, which was the lowest in its history
Former vice president Wu Den-yih (吳敦義) yesterday became the new Chinese Nationalist Party (KMT) chairman after securing more than 140,000 votes of the 272,682 cast in the election.
The KMT announced that Wu had garnered 144,408 votes, representing 52.24 percent of those cast, to win the six-way election.
Wu is to assume the position on Aug. 20 for a term of four years.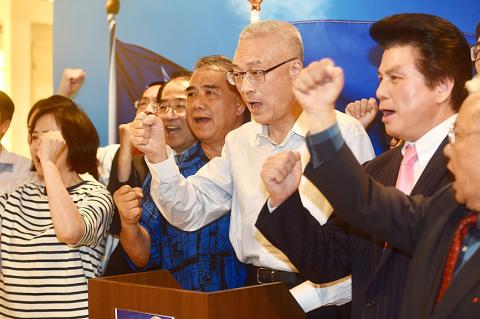 Wu Den-yih, center, clenches his fist and shouts slogan at his campaign headquarters in Taipei last night after winning the Chinese Nationalist Party's (KMT) chairperson election.
Photo: Chien Jung-fong, Taipei Times
Outgoing KMT Chairwoman Hung Hsiu-chu (洪秀柱), the runner-up, obtained 53,063 votes, followed by former KMT vice chairman Hau Lung-bin (郝龍斌) with 44,301 votes.
Former KMT vice chairman Steve Chan (詹啟賢) had 12,332 votes, while former Taipei Agricultural Products Marketing Corp (台北農產公司) general manager Han Kuo-yu (韓國瑜) and former KMT legislator Pan Wei-kang (潘維剛) obtained 16,141 votes and 2,437 votes respectively.
KMT headquarters said that voter turnout was 58.03 percent — a 1.71 percent increase compared with last year's KMT chairperson election, which had a turnout of 56.34 percent, the lowest in the party's history.
Yesterday's election saw the lowest-ever voter turnout among 12,724 KMT members living overseas, with only 5,127 voting.
The party has a total of 476,147 members.
Hung led Wu in the overseas vote by a razor-thin margin by winning 2,323 votes, compared with Wu's 2,069 votes, while Hau trailed in third with 409 votes.
Hau last night issued a statement conceding defeat and saying that he hopes the KMT would promote harmony among its members and that the party has a prosperous future.
Hung also conceded defeat last night, calling on party members to unit behind the new party chairman.
On Facebook, Chan issued a statement saying that "the members have voted" and that he would like to wish the party "all the best."
Chan hinted that he is preparing his next career move in the KMT, saying that he would "see his supporters soon."
Han thanked his supporters, and said that he had not fought hard enough in the campaign.
According to the KMT's charter, if no single candidate obtains 50 percent of the votes, a run-off election would have to be held between the top two candidates. Democratic Progressive Party (DPP) spokesman Chang Chih-hao (張志豪) congratulated Wu on behalf of the DPP, saying that the party hopes Wu would adopt a nonpartisan stance in his endeavors to help the nation bring about reform.
After his win, Wu declared in a speech that the KMT would adhere to the "1992 consensus" if it wins the 2020 national elections.
The "1992 consensus" refers to a supposed understanding reached during the cross-strait talks in 1992 that Beijing and the Chinese Nationalist Party acknowledge that there is "one China," with each side having its own interpretation of what that means.
In 2006, former Mainland Affairs Council chairman Su Chi (蘇起) admitted he made up the term "1992 consensus" in 2000, before the KMT handed power to the Democratic Progressive Party.
Comments will be moderated. Keep comments relevant to the article. Remarks containing abusive and obscene language, personal attacks of any kind or promotion will be removed and the user banned. Final decision will be at the discretion of the Taipei Times.