Groups rally for Lee Ming-che's release
FORCED DISAPPEARANCE: Lee Ching-yu appeared at a US congressional hearing to appeal for help for her husband, who has been detained in China since March
Human rights groups yesterday gathered at the Liberty Square in Taipei, demanding that China immediately release Taiwanese human rights advocate Lee Ming-che (李明哲).
Lee was detained after entering Zhuhai City via Macau on March 19. He used to work for the Democratic Progressive Party and is currently a staff member at Wenshan Community College in Taipei, as well as a volunteer at the non-governmental organization Covenant Watch.
"We hope he will return soon," Taipei Wenshan Community College president Cheng Hsiu-chuan (鄭秀娟) said.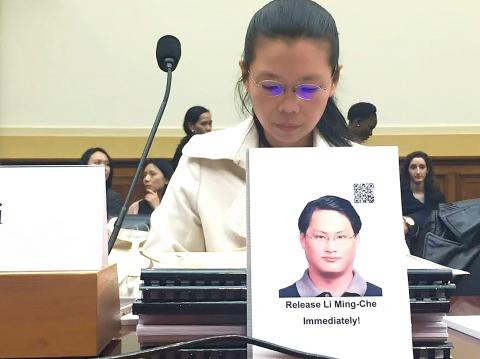 Lee Ching-yu, the wife of human rights advocate Lee Ming-che, who is being detained in China, yesterday attends a US Congressional hearing in Washington.
Photo: courtesy of Shih Mi-na
The rally last night also sought to raise public awareness about forced disappearances.
"Lee's wife, Lee Ching-yu [李凈瑜], declined the offer of help from human rights lawyers, because she believes her husband's forced disappearance is an issue of human rights rather than a legal issue," Cheng said. "There cannot not be any gray area between the two."
Cheng said that people often joke that China has "held many Taiwanese hostages," because of the large number of Taiwanese conducting business there, but she believes the nation would find a way to resolve the case without sacrificing its dignity.
Protesters attend a rally in Taipei last night to call for the release of human rights advocate Lee Ming-che, who is being detained by Chinese authorities.
Photo: Liu Hsin-de, Taipei Times
Taiwan Association for Human Rights secretary-general Chiu Ee-ling (邱伊翎) said that Beijing should clarify on what grounds it detained Lee Ming-che.
Even if China arrested Lee Ming-che according to the Law of the People's Republic of China on the Administration of Activities of Overseas Non-Governmental Organizations within the Territory of China, Chinese authorities should not have detained him for more than 37 days, Chiu said.
Lee Ming-che had been detained for 61 days as of yesterday.
The 5 million Taiwanese visiting China each year must not turn a blind eye to the incident; otherwise, they would be acquiescing to China's atrocities, which have not only infringed on the freedom of Taiwanese, but of international human rights advocates and academics, she added.
Covenant Watch chief executive officer Huang Yi-bee (黃怡碧) said her organization has sent a letter to German international law expert Eibe Riedel, who serves as a consultant for the German Commission for UNESCO, informing him of Lee Ming-che's situation.
Riedel has forwarded the letter to the commission and 40 UNESCO ambassadors, Huang said, expressing the hope that UNESCO would use its influence to press China to release Lee Ming-che.
Meanwhile, Lee Ching-yu appeared on Thursday before a US House of Representatives committee hearing in Washington to appeal for help to secure her husband's release.
She also pleaded for Washington to help preserve and enhance the human rights of Taiwanese in accordance with the Taiwan Relations Act (TRA).
Lee Ching-yu attended the hearing on forced disappearance, detention and torture in China along with the wives of three Chinese human rights lawyers who have also been detained.
Lee Ching-yu said in a statement that she had no choice but to seek help from the US, a country she described as "the leading democracy in the free world."
"The US Congress has also voluntarily taken on the responsibility, as specified in section 2, clause 3 of the Taiwan Relations Act, to preserve and enhance the human rights of the people of Taiwan," she said.
"Therefore, I stand alone before you today to plead for your help for my husband," she said.
US Representative Chris Smith, who chaired the hearing of the subcommittee on global human rights, said Taiwan is an important democratic ally of the US, and a beacon of peace and democracy in Asia.
The US should continue its promises stated in the TRA and "six assurances," which are the fundamental basis of Taiwan-US relations, he said.
After the hearing, Lee Ching-yu told reporters that she did not expect her husband to be released because of the hearing, but that being a human rights worker, one must believe in certain values and work hard to see them realized.
She said that as long as her husband remains in detention, she would do everything in her power to secure his release.
Comments will be moderated. Keep comments relevant to the article. Remarks containing abusive and obscene language, personal attacks of any kind or promotion will be removed and the user banned. Final decision will be at the discretion of the Taipei Times.