Officials celebrate name change for Japanese office
Renaming Japan's representative office in Taipei as the Taiwan-Japan Relations Association would help lessen misunderstandings and reflect Taiwan's burgeoning relationship with Japan, association president Chiou I-jen (邱義仁) said yesterday at the official unveiling of the association's new doorplate in Taipei.
"While people were clear about what we were concerned with when the office was first established, as time has gone by, many no longer have a clue," Chiou said, recalling how he once received a telephone call asking him to resolve an issue in Hawaii.
"Finally" changing the name of the non-governmental agency, formerly known as the Association of East Asian Relations, Taiwan, after almost 45 years lends clarity to the association's mission, he said.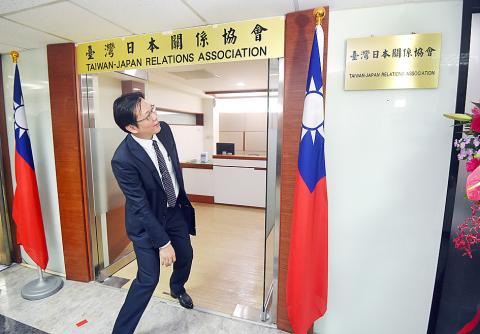 An employee at the Taiwan-Japan Relations Association in Taipei yesterday looks at the association's new sign after it is unveiled.
Photo: Liao Chen-huei, Taipei Times
The association was established in 1972 to handle relations with Japan after diplomatic ties were broken off, with its Tokyo branch — the Taipei Economic and Cultural Representative Office in Japan — also serving as Taiwan's de facto embassy in the nation.
While officially a civic organization under government contract, most employees simultaneously hold positions at the Ministry of Foreign Affairs.
The name change follows a similar change on the part of its Japanese counterpart earlier this year, which changed its name from Interchange Association, Japan to the Japan-Taiwan Exchange Association.
"Before we changed our name, a lot of people were not clear about our mission — we even had people calling and asking us about marriage matches," Japan-Taiwan Exchange Association Representative Mikio Numata said, adding that the renaming is a "historic step," as its name now conforms with reality.
"The name changes not only help the outside world understand the substantial content of both associations' work — it also verifies the continued positive development of Taiwan-Japanese relations," Minister of Foreign Affairs David Lee (李大維) said.
Relations have "never been better or more intimate," he said, citing record-high bilateral trade and tourism.
Any discussion of renaming the Coordination Council for North American Affairs — which handles relations with the US — would have to wait until US President Donald Trump fills key Department of State vacancies, he said.
The ministry's Japanese Political Affairs director, Fu Kuo-hua (傅國華), said the name changes primarily reflected a shift in Taiwan's stance.
Japan had proposed using "Taiwan-Japan" to name the associations when official diplomatic ties were first broken off, but the proposal was rejected by Chiang Kai-shek's (蔣介石) administration, which wanted to use "Chinese-Japanese," he said.
China yesterday called the name change a "conspiracy" and urged Japan not to send "false signals" to Taiwan and the international community.
"We strongly object to this attempt to upgrade Japanese-Taiwanese relations," Chinese Ministry of Foreign Affairs spokeswoman Hua Chunying (華春瑩) said. "We urge the Japanese government to scrupulously abide by the principles of the Japan-China Joint Communique, as well as all the promises which Japan has made to China to the present, including holding firm to the 'one China' principle."
"The Japanese government should take concrete action to correct wrong methods and should not send false signals to Taiwan's government and the international community, creating new interference for Sino-Japanese relations," she said. "We also want to tell the Taiwanese government that any attempt to create 'two Chinas' or 'one China, one Taiwan' is doomed to failure."
Additional reporting by CNA
Comments will be moderated. Keep comments relevant to the article. Remarks containing abusive and obscene language, personal attacks of any kind or promotion will be removed and the user banned. Final decision will be at the discretion of the Taipei Times.