Public blames China for WHA woes
PERCEPTIONS: A poll by the Cross-Strait Policy Foundation found a majority back Tsai's cross-strait policies, and feel Taiwan should not accept the '1992 consensus'
Nearly 60 percent of the public blame China for Taiwan's likely exclusion from this year's World Health Assembly (WHA), with the majority saying the government should take a tougher line on the issue, according to an opinion poll released yesterday.
The monthly poll conducted by the Cross-Strait Policy Foundation found that 56.2 percent of respondents blamed China for Taiwan's WHA exclusion, while 29.8 percent said the government is responsible.
Asked if the government should call an international news conference to seek WHA participation, 68.9 percent of respondents said yes, while 69 percent said an official delegation should visit Geneva, Switzerland, during the WHA meeting to lodge a formal complaint about Taiwan's exclusion.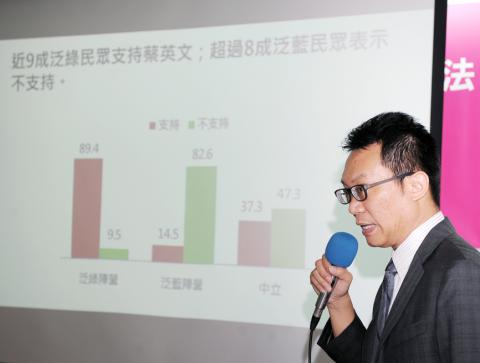 Cross-Strait Policy Foundation chairman Wang Zhin-sheng yesterday discusses the results of the foundation's latest opinion poll during a news conference at National Taiwan University in Taipei.
Photo: CNA
Asked if they believed the government had tried hard to seek WHA participation, 58.5 percent of respondents said yes, but 29 percent said it did not.
In terms of President Tsai Ing-wen's (蔡英文) China policy, 67.7 percent of respondents said they agreed with her "new situation, new test paper and new model" stance, while 22.1 percent disagreed.
Tsai's policy of maintaining the "status quo" across the Taiwan Strait is correct, 63.2 percent of respondents said, while 23.1 percent disagreed.
Asked about the so-called "1992 consensus," 52 percent of respondents said it involves Taiwan accommodating Beijing's "one China" principle, while 34.6 percent said the consensus allows room for "different interpretations" under the "one China" principle.
The "1992 consensus" refers to a tacit understanding between the Chinese Nationalist Party (KMT) and the Chinese Communist Party that both sides of the Taiwan Strait acknowledge there is "one China," with each side having its own interpretation of what that means.
Then-KMT Legislator Su Chi (蘇起) said in February 2006 that he had made up the term in 2000, when he headed the Mainland Affairs Council.
Asked if they would accept the "1992 consensus" if it meant accepting the "one China" principle, 70 percent of respondents said they would not and 21.5 percent said they would.
A clear majority said Taiwan should not accept the "1992 consensus" despite its diplomatic isolation (71.9 percent), while 16.4 percent said it should accept the consensus to seek international participation.
Even more feel Taiwan should not engage in "money diplomacy" to compete with China for diplomatic recognition (88.9 percent), while 7.2 percent said Taiwan should do so.
More than half of the respondents (58.4 percent) said Beijing has been provocative in its interactions with Taipei over the past year, but 23.7 percent said it was the other way around.
Meanwhile, Tsai has an approval rating of 55.9 percent and a disapproval rating of 38.5 percent, according to the poll. However, only 40.8 percent of the respondents said they were satisfied with her performance, while 54.8 percent were dissatisfied.
Democratic Progressive Party Legislator Lo Chih-cheng (羅致政) said that while the public approves of the policy direction of Tsai's administration, they are not happy with the "pace, scale and determination" with which the policies are being carried out.
The government has not held a major news conference on the WHA issue and the only statements made by the Presidential Office and the Executive Yuan were press releases, suggesting a difference between public and government attitudes, Lo said.
"The '1992 consensus' has no market in Taiwan if it denotes the 'one China' principle but eliminates room for 'different interpretations,'" National Taiwan Normal University politics professor Fan Shih-ping (范世平) said.
"It is why former president Ma Ying-jeou's (馬英九) administration failed to sell the '1992 consensus' on a 'different interpretations' platform because Beijing and other countries have recognized the '1992 consensus' as conditioned on the 'one China' principle," Fan said.
While the Tsai administration has shown self-restraint in maintaining ties with China, Taiwan's WHA exclusion should be understood as an outcome of the political infighting in Beijing, where hawkish factions are gaining ground, Fan said.
The Cross-Strait Policy Foundation poll was conducted on May 9 and May 10 and had 1,074 valid samples. It has a margin of error of 2.99 percentage points.
Comments will be moderated. Keep comments relevant to the article. Remarks containing abusive and obscene language, personal attacks of any kind or promotion will be removed and the user banned. Final decision will be at the discretion of the Taipei Times.