Trump snub a 'slap in the face,' reasonable: pundits
Taiwan's fears that it will become a bargaining chip between China and the US worsened on Friday after a snub by US President Donald Trump, who said he would not do anything to upset Beijing.
Trump rattled China in December last year after taking a congratulatory telephone call from President Tsai Ing-wen (蔡英文) after his election, smashing decades of diplomatic precedent.
However, after Tsai said in an interview with Reuters on Thursday in Taipei that her administration would not exclude the possibility of another telephone call with Trump, the US president said he did not want to risk his newfound "personal relationship" with Chinese President Xi Jinping (習近平).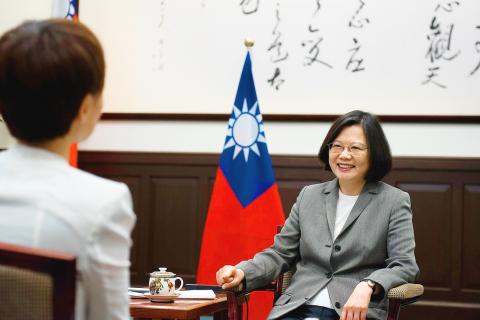 President Tsai Ing-wen, right, is interviewed by Reuters journalist Jean Yoon, left, in Taipei on Thursday.
Photo: EPA / Taiwan Presidential Office
"I think he's doing an amazing job as a leader and I wouldn't want to do anything that comes in the way of that. So I would certainly want to speak to him first," Trump told Reuters in a separate interview.
Ties between Trump and Xi seem to have warmed recently after they met at Trump's Mar-a-Lago estate in Florida earlier this month.
Since then, Trump has praised China for helping pressure North Korea over its nuclear and missile program.
Citing Tsai's remarks, Presidential Office spokesman Alex Huang (黃重諺) on Friday said that it was "the president's passive response to Reuters' hypothetical questions."
Tsai's main point was to "stress that Taiwan and the US should maintain close communication and not rule out any possible form [of communication]," Huang said.
Chinese Nationalist Party (KMT) Legislator Chiang Wan-an (蔣萬安) called Trump's reaction an "embarrassment" for Taiwan.
"Trump and Xi appear to have established very good relations. Taiwan needs to tread very carefully and be alert," he told reporters.
The comments were a "serious slap in the face," Tamkang University political analyst Edward Chen (陳一新) said. "Tsai is throwing the ball into Washington's court and Washington is saying no."
However, Democratic Progressive Party lawmaker Chao Tien-lin (趙天麟) said he thought Trump's response was reasonable.
"Washington needs Beijing in handling the North Korea issue," he said.
Concerns that Taiwan would become a bargaining chip were raised soon after Trump's election, when he suggested he might abandon the "one China" policy that underpins US-China relations, unless he could strike better deals with Beijing.
He later went on to say he would honor the policy.
The US is Taiwan's most powerful ally and arms supplier, despite having no official relations with Taipei after switching diplomatic recognition to Beijing in 1979.
Comments will be moderated. Keep comments relevant to the article. Remarks containing abusive and obscene language, personal attacks of any kind or promotion will be removed and the user banned. Final decision will be at the discretion of the Taipei Times.