Lee Hsi-ming to head military: ministry
RETIRING: Chief of the General Staff Chiu Kuo-cheng turned down an invitation to extend his term, saying that the system of elevation of rank should be respected
The Ministry of National Defense yesterday confirmed President Tsai Ing-wen's (蔡英文) appointment of Deputy Minister of National Defense Lee Hsi-ming (李喜明) as the nation's new chief of the general staff, among a reshuffle of positions at the top of the military and the ministry.
Lee is to fill the position left vacant by Chief of the General Staff Chiu Kuo-cheng (邱國正), who assumed the post in December last year, but will reach the retirement age of 64 for the position by the end of this month.
Chiu turned down an invitation to extend his term, saying that the system of elevation of rank should be respected and that he would be retiring at the end of this month, sources who requested anonymity said.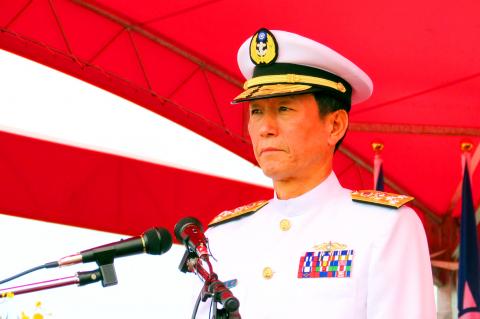 Deputy Minister of National Defense Lee Hsi-ming is pictured in an undated photograph. Lee was appointed chief of the general staff by President Tsai Ing-wen yesterday.
Photo: CNA
Lee's ministry post is to be filled by another admiral, Deputy Chief of the General Staff Pu Tze-chun (蒲澤春), while Deputy Commander of the Army Lieutenant General Chen Pao-yu (陳寶餘) is to take over from Pu and be promoted to general.
Deputy Minister of National Defense General Cheng Te-mei (鄭德美) is to transfer to the Presidential Office to act as Tsai's strategic adviser, the ministry said in a statement, adding that Chungshan Institute of Science and Technology president Chang Guan-chung (張冠群) would fill Cheng's position and would be promoted to general.
Chang's promotion would be the first time an academic has taken a post as deputy minister of national defense, the sources said.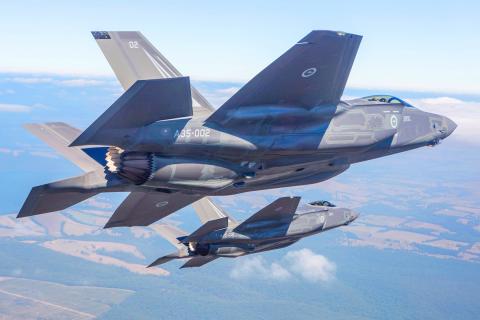 A handout photograph dated March 3 shows the Royal Australian Air Force's first F-35A Lightning II aircraft flying to the Australian International Airshow at Avalon airport in Victoria.
Photo: AFP
The reassignments are set to take effect on May 1.
Meanwhile, Minister of National Defense Feng Shih-kuan (馮世寬) yesterday told a meeting of the legislature's Foreign Affairs and Defense Committee that the ministry would formally declare its intention to procure Lockheed Martin F-35 jets to US officials in July when Washington is expected to finalize its appointment of Taiwan affairs officials.
Asked by Democratic Progressive Party Legislator Lo Chih-cheng (羅致政) if the ministry would be seeking F-35s, Feng said that the ministry "has such a plan in response to the enemy's military development."
"Because the appointments of [US] officials have not yet been completed, [a formal proposal] would be made to Washington in July," he said.
The military wants F-35s because their short takeoff and vertical landing capabilities, as well as their advanced stealth features, would allow the air force to retain combat capacity should its air bases be destroyed.
The attempt to acquire F-35s became the main topic of yesterday's legislative session after the ministry announced that it would test the nation's defensive capabilities with F-35s factored in during the computer simulation in this year's Han Kuang exercises.
The simulation would be based on the cross-strait military balance in 2025, when Chinese People's Liberation Army is expected to have three aircraft carriers and a fleet of Sukhoi Su-35 jets, Lieutenant General Chiang Chen-chung (姜振中) said.
Comments will be moderated. Keep comments relevant to the article. Remarks containing abusive and obscene language, personal attacks of any kind or promotion will be removed and the user banned. Final decision will be at the discretion of the Taipei Times.