Lee Ming-che case may affect Games: Ko
If Beijing does not order the release of human rights advocate Lee Ming-che (李明哲), "problems will arise" when the Chinese delegation arrives in Taipei for the Summer Universiade in August, Taipei Mayor Ko Wen-je (柯文哲) said.
China's handling of the Lee incident is "strange" and "runs counter to global norms," Ko said in an interview published yesterday by the Chinese-language Liberty Times (the Taipei Times' sister newspaper).
Ko said he had no preconceived notions about Lee's arrest almost three weeks ago, but Beijing should have disclosed on what grounds it detained him and allowed his family to visit on the second or third day of his detention.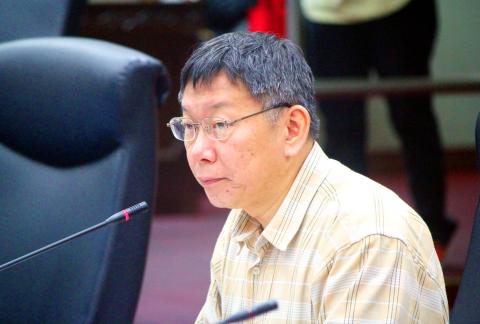 Taipei Mayor Ko Wen-je speaks at the Taipei City Council yesterday.
Photo: CNA
"This is the way of civilized nations," he said, adding that he was concerned about China, as a superpower, demonstrating behavior that is at odds with the civilized world.
China's handling of the Lee case provided insight into why, despite all the benefits that China's Taiwan Affairs Office has offered Taiwanese businesspeople in China, there is still a general antipathy toward China among Taiwanese, Ko said.
"It is very simple. The Chou Tzu-yu (周子瑜) incident probably scared off half of Taiwanese, while the Lee Ming-che incident scared off the other half," Ko said, refering to a seemingly forced apology by the Taiwanese K-pop idol after she displayed a Republic of China flag on a South Korean TV show last year.
"Maybe they do not find it unusual, but to Taiwanese it was beyond shock and awe," Ko said, adding that the two incidents showed a fundamental difference between Taiwanese and Chinese beliefs, which is an issue Beijing should be mindful of.
As China plans to send a delegation of at least 700 to Taipei to compete in the Summer Universiade, problems will arise if Beijing does not handle the Lee incident with caution, Ko said.
Ko said that although Taipei's extensive experience with dealing with protesters is enough to guarantee the safety of Chinese delegates, he cannot control public sentiments toward the delegation.
"Who do you think spectators will root for if China and US went head-to-head in a match?" he asked.
Taiwanese attitudes toward the Chinese delegation would have a profound political effect on Beijing and the world through live broadcast of the Games, he said.
Asked what messages he would convey to Chinese President Xi Jinping (習近平) if he meets Xi's aides on his trip to China for the Taipei-Shanghai Forum in June, Ko said that it is unclear whether he would meet with them.
If he has a chance to meet with Beijing officials, he would urge China to respect "universal values and global norms" in addition to promoting exchanges across the Taiwan Strait, so that disagreements can be resolved by an increase in goodwill, Ko said.
Comments will be moderated. Keep comments relevant to the article. Remarks containing abusive and obscene language, personal attacks of any kind or promotion will be removed and the user banned. Final decision will be at the discretion of the Taipei Times.