Clara Chou found guilty of defaming Ma Ying-jeou
PRISON TERM: The media personality said the court's decision was contrary to Constitutional Interpretation No. 509 and 'as such, this ruling is unconstitutional'
Media personality Clara Chou (周玉蔻) was yesterday found guilty of defaming former president Ma Ying-jeou (馬英九) and was sentenced to 50 days in jail by the Taiwan High Court, a ruling Chou said was swayed by political considerations.
It was a reversal of the not guilty verdict from the Taipei District Court in December 2015.
The 50-day prison term can be commuted by paying a fine of NT$50,000 (US$1,631).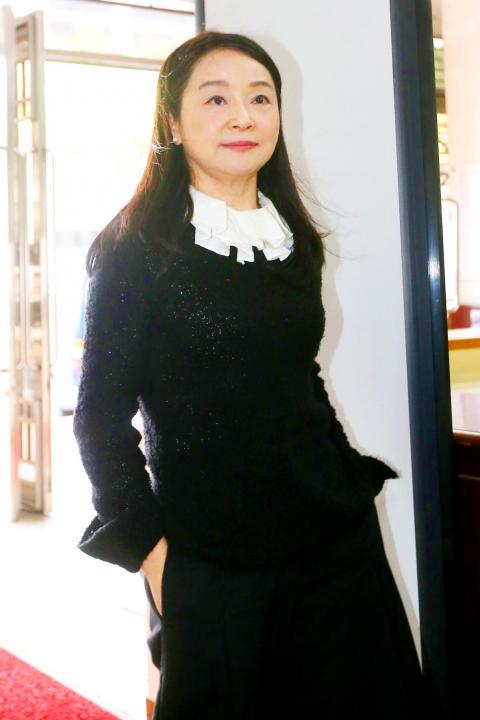 Clara Chou attends a court hearing in Taipei on Feb. 21. The Taiwan High Court yesterday found Chou gulity of defaming former president Ma Ying-jeou.
Photo: CNA
Yesterday's ruling was final and it cannot be appealed.
Ma filed the lawsuit against Chou after she made accusations on talk shows and in statements to media outlets in December 2014 that she had evidence that Ma and his campaign team had received a NT$200 million off-the-books political donation from the owners of Ting Hsin International Group (頂新集團).
At the time, Ting Hsin was embroiled in a series of tainted food scandals after allegations it used adulterated ingredients and fraudulent labeling in its oil products.
Chou said that Ma had become the company's "guardian protector," shielding it from prosecution.
During the court hearing, Chou was asked about the basis of her allegations and if she had checked with other sources.
Chou said she had checked the allegations with other media pundits, including Hu Chung-hsin (胡忠信) and Tsai Yu-chen (蔡玉真).
The judges considered these "personal opinions and information of subjective conjectures" and that "Chou had relied too much on her own interpretation," the ruling said.
Chou said the ruling was swayed by political considerations.
"It is an honor for the case to become a symbol of political interference in the justice system. This is a witch hunt by the judiciary," Chou said in a statement.
She aimed her invective directly at Presiding Judge Chen Hsiao-pei (陳筱佩) and the other two bench judges handling the case.
"Thank you, Presiding Judge Chen... Your political color is clearly shown. I hope you can bear to face your conscience," Chou wrote. "As for the other two bench judges, you have opened people's eyes with your display of cowardliness."
Chou released another statement saying the decision was contrary to the Council of Grand Justices' Constitutional Interpretation No. 509 and "as such, this ruling is unconstitutional. I will not retreat from this and will file for a constitutional interpretation of the case."
Chou also hinted that she would not serve the 50-day prison term.
"I have many friends who will fight each other to pay the fine for me," she said.
Ma's office released a statement to thank the judges "for clarifying the truth and making the appropriate ruling in this case."
Comments will be moderated. Keep comments relevant to the article. Remarks containing abusive and obscene language, personal attacks of any kind or promotion will be removed and the user banned. Final decision will be at the discretion of the Taipei Times.