KMT official touts Chiang's heroism
228 INCIDENT: Alex Tsai said all KMT members and officials should remember that Chiang Kai-shek was a veteran warrior who put Taiwan's interests above all
Chiang Kai-shek (蔣介石) was a "respected veteran" who put Taiwan's security ahead of his goals, Chinese Nationalist Party (KMT) Central Policy director Alex Tsai (蔡正元) said yesterday, adding that all KMT members must be required to recite this "standard" response to questions about the former president's role in the 228 Incident.
Tsai hosted a KMT news conference to address criticism by pan-green politicians and their supporters who say Chiang, who died 42 years ago yesterday, was the mastermind of the 228 Incident.
After the 228 Incident erupted in 1947, militia occupied public agencies — including airports, city governments, schools and hospitals — prompting Chiang, the national leader at the time, to deploy troops to Taiwan in a last-ditch effort to quash the insurgency, just like any head of state would, Tsai said.
Shen Chao-ching, a diehard fan of former president Chiang Kai-shek, yesterday pays his respects to the late president in a military uniform at Cihu Mausoleum in Taoyuan to mark the 42nd anniversary of Chiang's death.
Photo: CNA
"If [Kaohsiung Mayor] Chen Chu (陳菊) were kidnapped by a militia, it would be impossible for Taipei-based President Tsai Ing-wen (蔡英文) to sit idly by and not send any troops to quash the militia in Kaohsiung," Alex Tsai said.
Then-Taiwan governor Chen Yi's (陳儀) governance gave rise to the 228 Incident and Chiang, concerned that the conflict between KMT troops and the masses would escalate, sent Chen a telegram urging him to make sure that the troops did not take retaliatory action or they would be charged with treason, Alex Tsai said.
The telegram indicated that Chiang's sole intention in sending the troops was to suppress the insurgents and although any skirmish would inevitably cause collateral damage, the death toll was insignificant compared with that during the revolt against Japanese rule when Taiwan was ceded to Japan, he said.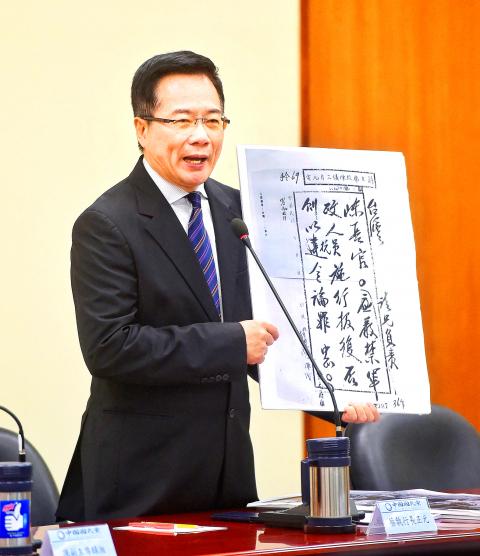 Chinese Nationalist Party (KMT) Central Policy Committee director Alex Tsai yesterday comments on former president Chiang Kai-shek's historical position during a Central Standing Committee meeting at the party's headquarters in Taipei.
Photo: Fang Pin-chao, Taipei Times
Considering this and the fact that Chiang was at the time preoccupied with forming a strategy to counter the Chinese Communist Party forces gathered in China's Yanan City, it is evident that the pan-green camp's accusations that Chiang was a "murderer" responsible for the 228 Incident was unfair and slanderous, he said.
Chiang's leadership was also instrumental to the then-KMT government's victory over the People's Liberation Army in the 1949 Battle of Kuningtou and the 823 Artillery Bombardment in 1958, without which Kinmen County would have been lost and Taiwan would have fallen under Chinese communist rule, he said.
Alex Tsai said the least any KMT member wanting to run for office in the party can do is to defend Chiang when Chiang is criticized.
"They should not distance themselves from Chiang just to pander to Taiwanese independence advocates or bereaved families of the 228 Incident," he said.
Asked by reporters whether his remarks were directed at former president Ma Ying-jeou (馬英九), who on Feb. 27, in response to reporters' questions, said that Chiang "had a responsibility" in the 228 Incident, Alex Tsai said that Ma had not given the question careful thought and gave an "unfair" reply.
"Therefore, we would like to issue a special notice to all KMT members who hold or have held positions in the party to adhere to the standard response: 'Chiang Kai-shek is not the murderer in the 228 Incident, but a leading warrior and veteran who protected Taiwan,'" he said.
"This is the standard answer the party wishes to establish today. Anyone who diverts from this answer does not deserve to serve as a KMT employee or official," he said.
Separately yesterday, former vice president Wu Den-yih (吳敦義), who is running in next month's KMT chairpersonship race, said that without Chiang's dedication to the Republic of China, Taiwan would still be occupied by the Japanese instead of being governed by Tsai Ing-wen today.
Although Chiang was not perfect, his role in the 228 Incident should be evaluated in a fair and just manner, Wu said.
KMT Chairwoman Hung Hsiu-chu (洪秀柱) said the Democratic Progressive Party's plan to remove remnants of Chiang's rule is aimed at severing Taiwanese people's emotional ties to Beijing and fulfilling its dream of independence.
Comments will be moderated. Keep comments relevant to the article. Remarks containing abusive and obscene language, personal attacks of any kind or promotion will be removed and the user banned. Final decision will be at the discretion of the Taipei Times.