Rights advocate's wife plans Beijing visit
The wife of a human rights advocate detained in China plans to depart for Beijing on Monday to seek the release of her husband, who has been held in an unknown location by Chinese authorities for 17 days.
The Chinese government detained rights advocate Lee Ming-che (李明哲) on March 19 over his alleged involvement in activities that "endanger national security."
Lee's wife, Lee Ching-yu (李凈瑜), said that she would fly to Beijing to seek her husband's release herself, without the help of a lawyer.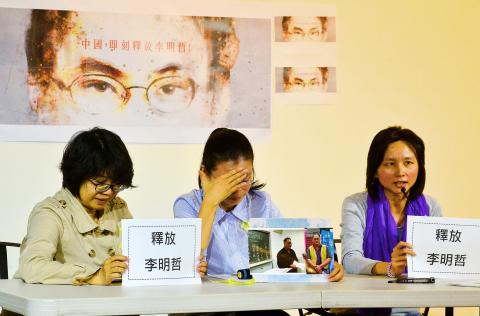 Lee Ching-yu, center, wife of human rights advocate Lee Ming-che, who is being detained in China, and supporters hold a news conference in Taipei yesterday.
Photo: Wang Yi-sung, Taipei Times
Lee Ching-yu said she decided to visit Beijing after the meeting between US President Donald Trump and Chinese President Xi Jinping (習近平), which begins tomorrow, to avoid "unnecessary associations and confusion."
"As much as I want to depart for Beijing immediately, the Trump-Xi meeting could have an effect on regional peace and I do not want my action to stand in the way of a global event," she said. "I made the decision as a Republic of China citizen. I have to stand with my nation."
She is to visit China's Taiwan Affairs Office, the Chinese Supreme People's Procuratorate and other agencies to understand where and on what charges Lee Ming-che is being held, as well as to deliver his blood pressure medication.
She plans to take the trip independently since the government has offered little assistance since she first announced it on Friday last week.
"I do not believe my nation would abandon its citizens no matter which party is in power. I understand the pressure put on the government because of Taiwan's special conditions, but neither the Mainland Affairs Council [MAC] nor the Straits Exchange Foundation [SEF] has given me any meaningful information or concrete rescue plans. They could not even help me deliver [Lee's] medicine," she said.
The MAC and the SEF should at least have a plan to support her, she said, adding that she would formally visit the two agencies today to seek assistance.
Lee Ching-yu has received conflicting information about her husband's whereabouts and the possible charges against him, including involvement in the East Turkestan independence movement, acts of terrorism and seeking prostitutes — with penalties ranging from a fine to 15 years in prison — but she could not verify the information without official word from Beijing.
The Chinese government has snubbed Taiwan's requests for information, she said.
"I have suffered as the families of political victims suffered during the White Terror era. I have been told to succumb to Beijing and not to offend China or pay for the help of influential people," she said.
She called on China to ensure her right as a family member of a detainee to visit her husband.
Taiwan Human Rights Association secretary-general Chiu E-ling (邱伊翎) called on the government to actively engage in the matter, ensure Lee Ching-yu's personal safety and facilitate her meetings with Chinese officials.
Comments will be moderated. Keep comments relevant to the article. Remarks containing abusive and obscene language, personal attacks of any kind or promotion will be removed and the user banned. Final decision will be at the discretion of the Taipei Times.