Cabinet approves pension bill
FORWARD THINKING: The Executive Yuan's proposal stipulates a revision to the rules in 2022 to ensure that the nation's pension system stays afloat for another 20 years
The Executive Yuan yesterday approved a series of draft amendments seeking to reform the pensions and benefits granted to private-sector workers and public-school teachers as part of a plan to revive the nation's pension system.
The Cabinet passed draft amendments to the Labor Insurance Act (勞工保險條例) and a draft act on retirement benefits for public-school teachers, which seeks to hike insurance premiums and lower income replacement rates.
According to the draft amendment, the labor insurance premium would be raised from 9.5 percent of a worker's monthly salary to 12 percent in 2022, in annual increments of 0.5 percentage points.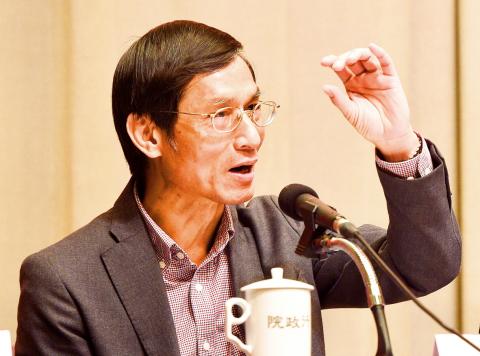 Minister Without Portfolio Lin Wan-i gestures at a news conference in Taipei yesterday after the Executive Yuan approved plans to reform the pension scheme for public-school teachers.
Photo: Peter Lo, Taipei Times
The government would assess the need for further premium adjustments in 2022 to ensure that the pension fund would stay afloat for another 20 years.
The premium hike is lower than what was proposed by the Presidential Office's pension reform committee, which suggested to raise it to 18 percent.
The draft amendment sees the government injecting NT$20 billion (US$659.74 million) into the Labor Insurance Fund every year.
The draft act on retirement benefits of public-school teachers and personnel seeks to gradually phase out the 18 percent preferential saving rate.
For pensioners receiving monthly payments, the rate would be 9 percent in the first two years after retirement, 6 percent in the third and fourth year, and 3 percent in the fifth and sixth year, after which the pensioners would not be given any preferential rates.
For people who received a lump-sum payout upon retirement, the rate would be 12 percent in the first two years after retirement and would be lowered by 2 percentage points every two years, with a flat interest rate of 6 percent from the seventh year onward.
However, the 18 percent interest rate would remain for retirees who receive a monthly pension of less than NT$32,160.
The income replacement rates for teachers would be lowered over a 15-year period, from 75 percent to 60 percent for retirees with 35 years of service; from 67.5 percent to 52.5 percent for retirees with 30 years of service; and from 60 percent to 45 percent for retirees with 25 years of service.
Meanwhile, the insured monthly salary for private-sector employees and public-school teachers would be changed from the average of the highest 60 months on which premiums were paid to the average of the highest 180 months.
Workers and educators would also be allowed to carry their work years between jobs, including when they switch between the private and public sectors.
Currently, employees covered by labor insurance with less than 15 years of contributions can only claim a lump-sum payment, while public-sector employees only qualify for monthly pensions if they retire from a public-sector position.
"The practice of 'transferable work years' will allow employees to move between jobs without being bound by pension restrictions," said Minister Without Portfolio Lin Wan-i (林萬億), who is also deputy convener and executive director of the pension reform committee.
The reform measures are expected to keep the Educators' Pension Fund afloat until 2049, which is otherwise estimated to go bankrupt in 2030, and to keep the Labor Insurance Fund afloat until "several years" after 2036, Lin said.
"The pension systems will be reviewed every five to 10 years to deal with the effects of demographic changes," Lin said.
The draft amendment and act are to be submitted to the Legislative Yuan for final approval.
Comments will be moderated. Keep comments relevant to the article. Remarks containing abusive and obscene language, personal attacks of any kind or promotion will be removed and the user banned. Final decision will be at the discretion of the Taipei Times.