Taipei urged to be tough on rights advocate's vanishing
The government should take a tough stance over the disappearance of Taiwanese human rights advocate Lee Ming-che (李明哲), family members and human rights advocates said yesterday, while calling on the Chinese government to issue an official statement on his status.
Lee, a former Democratic Progressive Party (DPP) staffer who works at Taipei's Wenshan Community College, disappeared after entering China from Macau on Sunday.
"He did not contact me as planned, did not check into his hotel and his mobile phone is unreachable," Lee's wife, Lee Ching-yu (李淨瑜), said at a news conference with human rights advocates at the legislature in Taipei.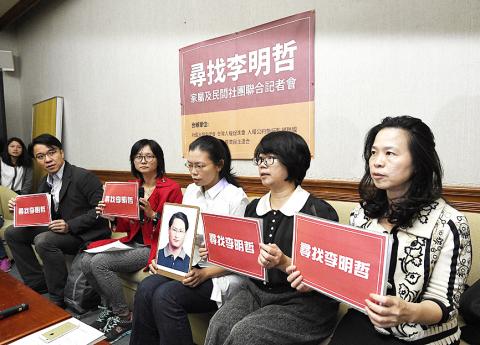 Lee Ching-yu, , third right, the wife of Lee Ming-che, a missing Taiwanese human rights advocate and representatives of several non-governmental organizations call for help ascertaining Lee Ming-che's whereabouts at a news conference in Taipei yesterday. The signs say: "Looking for Lee Ming-che."
Photo: Chen Chih-chu, Taipei Times
"I do not want to be yet another family member making a scene, but it has already been five days. If the Chinese government has detained or arrested my husband, please tell us why," she said.
Lee Ming-che had gone to China to "preach" and "share" Taiwan's experience of democratization with his Chinese friends, she said, adding that her main objective in going public was to prevent Chinese authorities from "splashing dung" on his reputation by framing him with trumped-up charges.
"I cannot protect his body, but I can protect his honor," she said, "[Lee Ming-che] has always cared deeply about human rights in China and if that is the reason he has been arrested, we are willing to face the consequences."
Taiwan Association for China Human Rights chairman Yang Hsien-hung (楊憲宏) said the Chinese government routinely denies arrests it says are made for the "purposes of national security."
The Mainland Affairs Council earlier this week said that it had sought to contact Chinese authorities about the case, but had failed to receive any response.
It urged workers at Taiwanese non-governmental organizations (NGOs) traveling to China to be cautious, saying that harsher rules granting security organizations broader authority to detain foreign NGO employees had increased the risks.
Taiwan Association for Human Rights secretary-general Chiu E-ling (邱伊翎) said the council's response was "disappointing."
"If promoting universal human rights and democratic values is right, the government's response to this kind of disappearance should not just be to warn NGO workers going to China to be more careful," she said, calling on President Tsai Ing-wen (蔡英文) to personally issue a proactive response.
The Chinese government should publish available video footage of Lee Ming-che and announce how it intends to handle his disappearance if it denies arresting him, she said.
"Our government has issued only weak responses to China restricting our citizens' freedom of movement for a long time now — we need it to issue an official statement [condemning the disappearance]," Judicial Reform Foundation executive director Kao Jung-chih (高榮志) said, adding that the council's actions were "passive."
Comments will be moderated. Keep comments relevant to the article. Remarks containing abusive and obscene language, personal attacks of any kind or promotion will be removed and the user banned. Final decision will be at the discretion of the Taipei Times.