Same-sex marriage hearing commences
CODIFIED: The interpretation on the constitutionality of same-sex unions mostly focuses on the Civil Code, which defines marriage as being between a man and a woman
The Council of Grand Justices yesterday began a session to hear a constitutional challenge concerning same-sex marriage, during which the spotlight fell mostly on Minister of Justice Chiu Tai-san (邱太三), who defended the legality of the Civil Code's definition of marriage as being between a man and a woman.
In an unprecedented move, the debate was live-streamed. A ruling is expected within two months.
Taiwan is the first Asian nation to assent to a constitutional interpretation on the legalization of same-sex marriage.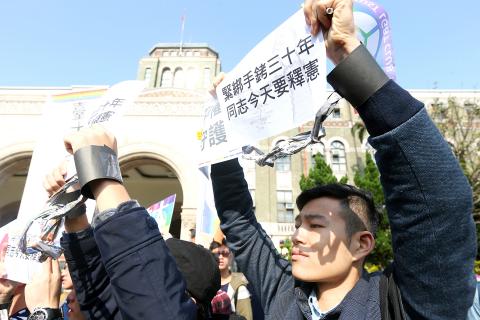 Members of student groups hold up slogans supporting same-sex marriage outside the Judicial Yuan in Taipei yesterday, where the Council of Grand Justices was holding a hearing on same-sex marriage. The sign says: "After 30 years in shackles, homosexuals will get a constitutional interpretation today."
Photo: CNA
The debate addressed two requests for an interpretation, filed by the Taipei City Government and gay rights advocate Chi Chia-wei (祁家威), who has over the past three decades sought legal recognition of his union with his partner.
The challenges mostly focus on marriage as defined in Chapter II of the Civil Code, which in Article 972, Section 1, stipulates that: "An agreement to marry shall be made by the male and the female parties in their own concord."
Chi was the first to make his argument, followed by law professor Liao Yuan-hao (廖元豪), who represented the Taipei City Government, with both arguing that same-sex marriage is a right protected by the Constitution and that the Civil Code is unconstitutional because it does not protect homosexual unions.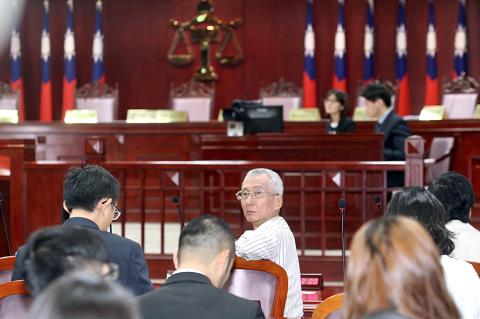 Gay rights advocate Chi Chia-wei, facing camera, attends a Constitutional Court hearing in Taipei yesterday to hear arguments on the same-sex marriage lawsuit he filed.
Photo: CNA
The panel of 14 grand justices then heard opinions and reports from Chiu, followed by representatives of related government agencies, including the Ministry of the Interior's Household Registration Department Director Wanda Chang (張琬宜).
After arguments were presented, a cross-examination session was held in which both sides were questioned by six court-appointed expert witnesses before the hearing ended at noon.
While a number of opinions were voiced during the hearing, Chiu's remarks drew the most attention, particularly his insistence that a lawful marriage — based on its definition in the Civil Code and prior legal interpretations by the Ministry of Justice and the Council of Grand Justices — is limited to a union between a man and a woman.
"The Civil Code stipulates that marriage shall be between a man and a woman, and as such it is not unconstitutional. The Constitution guarantees citizens' right to marry as that between a man and a woman, while marriage between people of the same sex is not covered under the Constitution," Chiu said.
"For thousands of years in the nation's history, society has instituted traditions and codes of conduct regarding marriage. Has there ever been a cultural institution or social phenomenon for same-sex marriage?" Chiu said.
"Without a doubt, there has been none," Chiu said.
He then quoted one section of the Chinese classic I Ching (易經), also known as the Book of Changes, which reads: "With the existence of the earth and the sky, there came all living things. With the existence of the earth and the sky, there came men and women," which he said illustrates that Chinese marriage traditions have — since ancient times — been based on a union between a man and a woman.
Chiu also suggested that same-sex marriage could destroy a number of traditional cultural and ritual observances, citing as an example the use of kao (考) and bi (妣) at funerals and memorial tablets for deceased fathers and mothers.
Comments will be moderated. Keep comments relevant to the article. Remarks containing abusive and obscene language, personal attacks of any kind or promotion will be removed and the user banned. Final decision will be at the discretion of the Taipei Times.