Some immigrants no longer need to give up citizenship
The regulation concerning the criteria for foreigners with professional skills to obtain Republic of China citizenship, without being required to renounce their original citizenship, is to be promulgated today, the Ministry of the Interior announced.
The ministry is to promulgate today the regulation, which is in accordance with and supplementing an amendment to the Nationality Act (國籍法) passed by the legislature in December last year that states foreign nationals may be exempted from submitting a certificate of loss of original nationality if "they are high-level professionals in the technological, economic, educational, cultural, art, sports, or other domains who have been recommended by the central competent authority."
Foreigners with five years of residency and specific professional qualifications in six specified categories can be granted citizenship without renouncing their prior citizenship, it said.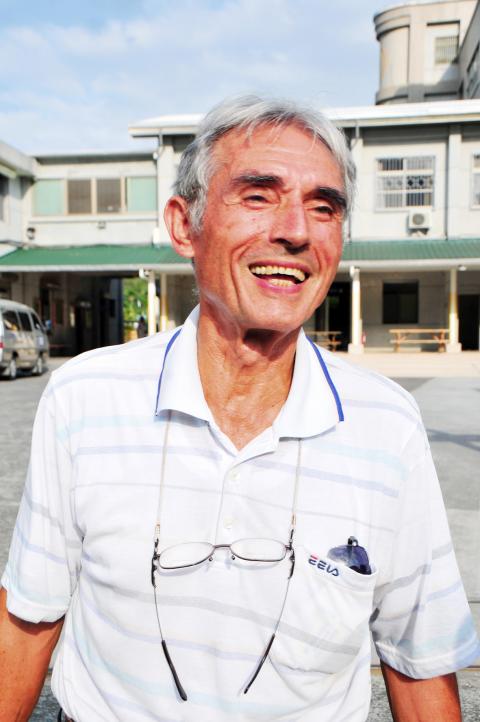 Catholic priest and long-term resident of Taiwan Yves Moal yesterday expresses his delight at the chance to have dual citizenship as new rules take effect today.
Photo: Hua Meng-ching, Taipei Times
The amendment does not apply to Chinese citizens or residents of Hong Kong or Macau, as their naturalization falls under the purview of the Act Governing Relations Between the People of the Taiwan Area and the Mainland Area (臺灣地區與大陸地區人民關係條例), it said.
The professional categories included in the regulation are technology, economics, arts and culture, education, sports and "special," the ministry said.
The technology category includes experts in high-value technical fields such as nanotechnology, optoelectronics, information technology, biotechnology, military science and technology, artificial intelligence, robotics and other cutting-edge technologies.
The economics category includes those with technical skills or knowledge of subjects that could contribute to the upgrading of industry, such as those involving semiconductors, biomedical technology, "green" energy, cultural industries and tourism.
The arts and culture category includes those who received recognition from distinguished institutions or major media outlets; have served on the panels of major arts and cultural prizes; accomplished preservers or restorers; or outstanding performers.
The educational category includes foreigners who are employed at a Taiwanese academic institution with a rank of assistant professor or above and those who have published in internationally renowned academic journals.
The sports category includes athletes who have finished in the top three places in international competition, national team coaches, international referees and distinguished players.
The special category includes distinguished democratic, human rights and religious advocates; those who have authored major works of literature; those who have received international honors or distinctions; and those with a recognized contribution to finance, medicine, transportation, telecommunications, aviation and navigation, meteorology, earthquake studies and popular culture.
French Catholic priest Yves Moal — also known as Liu Yi-feng (劉一峰) — yesterday said he is heartened to be able to be a citizen of both Taiwan and France.
Moal, 76, said he has served the Catholic Church in Taiwan for the past 51 years and has since 1986 managed a Hualien-based charity for mentally challenged children, works that have earned him a Presidential Office commendation.
"Taiwan has been my home for a long time. I spend almost twice as much time in Taiwan as in France, and I will be more than happy to live out my old age in Taiwan," Moal said, adding that he expects to receive his national identification card next week.
Additional reporting by Hua Meng-ching
Comments will be moderated. Keep comments relevant to the article. Remarks containing abusive and obscene language, personal attacks of any kind or promotion will be removed and the user banned. Final decision will be at the discretion of the Taipei Times.