Ma Ying-jeou maintains his innocence
Former president Ma Ying-jeou (馬英九) yesterday reaffirmed his innocence after he was charged with disclosing classified information.
"Legislators can get away with peddling their influence, but the people who uncovered the scandal have been prosecuted. Where is the justice?" Ma said. "I will definitely appear in court to fight for justice. The prosecutors did not take into account the statements I provided on the case."
Huang had revealed details of a probe into two prominent members of the legislature, which could have erupted into a "world-class scandal," Ma said.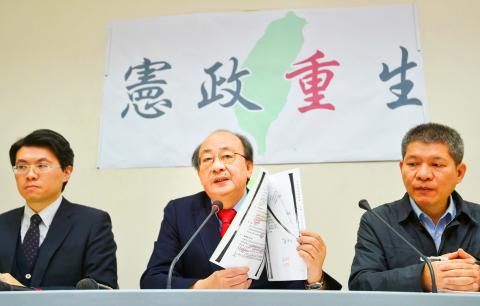 Democratic Progressive Party caucus whip Ker Chien-ming, center, holds a news conference in Taipei yesterday in response to former president Ma Ying-jeou's indictment on charges of leaking classified information and abuse of authority.
Photo: Fang Pin-chao, Taipei Times
The information was relayed to former premier Jiang Yi-huah (江宜樺) and former Presidential Office deputy secretary-general Lo Chih-chiang (羅智強) because the scandal would impact the relationship between the Executive Yuan and the Legislative Yuan, which would hinder legislation proposed by the former, and because there would have been a Cabinet reshuffle after the scandal was made public, Ma said.
"I involved Jiang and Lo mainly for crisis management. In case [the scandal] broke, we [had to know] how to deal with the ensuing issues," Ma said. "I am confident in my innocence and expect the court to make the correct decision in the spirit of justice."
Democratic Progressive Party caucus whip Ker Chien-ming (柯建銘), one of the lawmakers involved in the probe, commended the prosecutors for showing moral courage.
"This is a long-awaited moment. This is also a constitutional moment, in which Taiwan's constitutional governance is reborn," Ker said. "Ma was clearly aware of the constitutional separation of powers, but he used the case for political ends. In any nation, the president would have to step down if he was found colluding with the prosecutor-general on illegal wiretaps and intervening in a [judicial] case."
Having filed a lawsuit against Ma over the wiretapping case, the result of which is to be announced on March 28, Ker called on Ma to admit to his crimes and take responsibility to preserve his legacy.
Fromer legislative speaker Wang Jin-pyng (王金平), the other lawmaker involved in the probe, said that he had not engaged in any illegal activity and remained calm about Ma's prosecution.
"When the incident began on Sept. 6, 2013, I dealt with it with the same calm attitude," Wang said. "I have a clear conscience, so I remain unperturbed."
Comments will be moderated. Keep comments relevant to the article. Remarks containing abusive and obscene language, personal attacks of any kind or promotion will be removed and the user banned. Final decision will be at the discretion of the Taipei Times.