Ex-student held for espionage
STIRRING UP TROUBLE: China's Taiwan Affairs Office said the Ministry of Justice Investigation Bureau's accusation that it ordered Zhou to spy was 'pure fabrication'
Former Chinese student Zhou Hongxu (周泓旭) was detained incommunicado on suspicion of recruiting people for a spy ring while enrolled at a Taipei university and trying to coerce government officials into passing on classified materials.
The Taipei District Court yesterday cited the risk of 29-year-old Zhou fleeing the nation and an ongoing investigation.
Prosecutors and officers of the Ministry of Justice's Investigation Bureau National Security Section on Thursday raided Zhou's rented apartment in Taipei, confiscating his computer and mobile phone.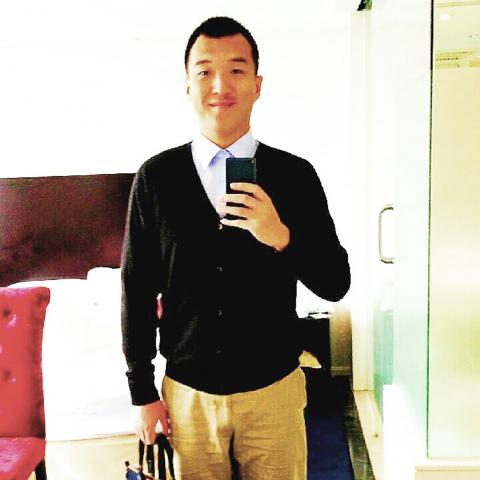 Former Chinese student Zhou Hongxu takes a selfie in an undated picture posted on Facebook.
Screengrab from Facebook
Zhou was taken into custody for questioning by prosecutors, who said there was sufficient evidence to charge him with violating the National Security Act (國家安全法)
He had tried to develop a spy ring as a student and attempted to obtain classified materials from universities and government agencies, prosecutors said.
In 2009, Zhou, then 21 and enrolled at Zhejiang University in Hangzhou, China, reportedly came to Taiwan as an exchange student for a business and finance program at New Taipei City's Tamkang University.
Zhou later enrolled in a master of business administration program at Taipei-based National Chengchi University (NCCU) from September 2012 to July last year and returned to China after obtaining his degree.
Last month, Zhou returned to Taiwan on an "investment and business" visa to work at a firm in Taipei, officials said.
His Facebook page is full of a photographs documenting his travels around the nation and attending various events, as he was reportedly active in campus networking activities, and had accumulated more than 1,400 friends on the social network.
Prosecutors said that Zhou tried to entice a Ministry of Foreign Affairs official with a US dollar reward and an all-expenses-paid trip to Japan, in exchange for classified materials that would be delivered to a contact in Japan.
Bureau officials said they believe Zhou was instructed by China's Taiwan Affairs Office (TAO) to enroll at NCCU, where he was to actively make friends and develop a spy ring, adding that he had tried to recruit students and government officials.
"There have been 55 Chinese espionage cases since 2008, but that figure is only the tip of the iceberg," said a bureau official investigating the case, who asked not to be named. "China has sent numerous operatives under different covers to infiltrate our society and government agencies."
Zhou's is the first known case of a Chinese student being investigated for espionage since they were allowed to enroll at Taiwanese universities during the administration of former president Ma Ying-jeou (馬英九).
The Mainland Affairs Council yesterday said its policies on Chinese students remained unchanged, despite Zhou's case.
"However, Chinese students studying in Taiwan should abide by our laws and make learning their priority," the council said, adding that it would respect authorities' handling of the case.
Urging both sides of the Taiwan Strait to cherish the long-term achievements of student exchanges, the council said the government would continue efforts to attract Chinese students, in a bid to promote mutual understanding between young people on both sides of the Strait and to facilitate cross-strait peace.
Separately yesterday, TAO spokesman spokesman Ma Xiaoguang (馬曉光) said in Beijing that "the Taiwan authority's accusation against the office on this matter is pure fabrication intended to stir up trouble."
"This has come at a time when Taiwanese independence forces have been hyping up a 'serious infiltration by Chinese spies in Taiwan,' so we question the motives behind the case," he said.
"Taiwan has interfered in normal cross-strait exchanges between schools, and now it is making a big deal about a Chinese student there," Ma Xiaoguang said. "This will only further damage the goodwill between compatriots and harm educational exchange programs, resulting in the cross-strait relationship deteriorating."
Additional reporting by Stacy Hsu and CNA
Comments will be moderated. Keep comments relevant to the article. Remarks containing abusive and obscene language, personal attacks of any kind or promotion will be removed and the user banned. Final decision will be at the discretion of the Taipei Times.