Chinese espionage threat growing: security officials
NOT ON OUR WATCH: Authorities said the son of Kim Jong-un's half brother was not in the nation, after overseas media reported he had taken shelter in Taiwan
The threat of Chinese espionage has increased, although there have been no national security breaches, officials said yesterday, as the Executive Yuan vowed to propose counterintelligence legislation to prevent Chinese spies from infiltrating the nation's security agencies.
"China will employ all methods [of espionage], and the issue [of Chinese infiltration] is more serious than ever," National Security Bureau (NSB) Director-General Peng Sheng-chu (彭勝竹) said at a question-and-answer session of the legislature's Foreign Affairs and National Defense Committee, in response to questions by Democratic Progressive Party (DPP) Legislator Lo Chih-cheng (羅致政) regarding whether China had become more aggressive in penetrating the nation's security agencies.
Investigation Bureau Director-General Tsai Ching-hsiang (蔡清祥), National Police Agency (NPA) Director-General Chen Kuo-en (陳國恩) and National Immigration Agency (NIA) Director-General Ho Jung-chun (何榮村) all said that the threat has become more severe.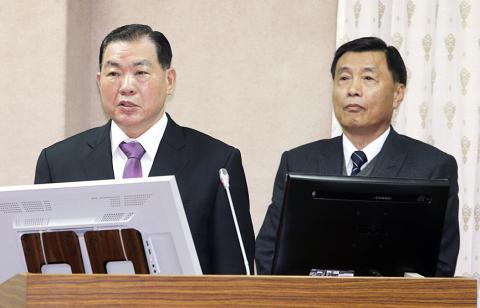 National Immigration Agency Director-General Ho Jung-chun, left, yesterday speaks at a question-and-answer session at the Legislative Yuan in Taipei as National Security Bureau Director-General Peng Sheng-chu looks on.
Photo: CNA
The issue of Chinese espionage was raised after Vice Premier Lin Hsi-yao (林錫耀) told DPP leaders on Wednesday that the Cabinet would devise counterintelligence legislation, in response to DPP Legislator Chen Ming-wen (陳明文) saying that "national security agencies have been infiltrated by China."
Chinese Nationalist Party (KMT) Legislator Johnny Chiang (江啟臣) questioned whether any intelligence agency had been breached, but the heads of all of the nation's security agencies — including the Coast Guard Administration, NSB, NIA, NPA and the Military Intelligence Bureau — denied that their organizations had been infiltrated.
The National Intelligence Services Act (國家情報工作法) stipulates counterespionage responsibilities for national security agencies, so there is no need to create new legislation if the existing legal framework already has counterintelligence requirements, Chiang said.
A draft counterintelligence act proposed by the Investigation Bureau stipulates more severe punishments for security breaches and gives counterintelligence agents "semi-judicial rights" to conduct investigations of suspected espionage, but the Executive Yuan has been redrafting the bill following criticism of its potential to allow for the infringement of human rights.
Separately, authorities denied reports that the son of Kim Jong-nam, the murdered half brother of North Korean leader Kim Jong-un, was once hidden in Taiwan to escape assassination.
Kim Han-sol has not entered Taiwan, Ho said, adding that he was unaware of Kim Han-sol having transited through Taiwan en route to another nation.
Peng said he had no idea if Kim Han-sol was in Taiwan.
A man claiming to be Kim Han-sol appeared in a video uploaded to YouTube on Wednesday saying that he was safe with his mother and sister.
The group that uploaded the video — Cheollima Civil Defense, an organization that helps North Korean defectors — expressed gratitude to the Netherlands, China, the US and a "fourth government to remain unnamed" for providing assistance in protecting the three.
South Korean and Japanese media reported that the fourth government was Taiwan, and that Kim Han-sol had arrived in Taiwan on Feb. 15, two days after his father was assassinated at Malaysia's Kuala Lumpur International Airport.
The assassination is widely believed to have been carried out with the authorization of Kim Jong-un to secure his regime.
Two Malaysian employees of the UN World Food Programme who were stranded in North Korea because of a travel ban have left the country, the UN said yesterday.
Nine other Malaysians are believed to still be stuck there after the two countries' diplomatic relations broke down over the killing of Kim Jong-nam.
The UN employees were among hundreds of ordinary citizens caught up in the escalating diplomatic battle.
The two arrived in Beijing yesterday, World Food Programme coordinator for global issues Jane Howard said.
"The staff members are international civil servants and not representatives of their national government," she said.
When North Korea issued its travel ban earlier this week, Malaysia responded in kind, barring North Koreans from leaving its soil.
The nine Malaysians still believed to be in North Korea are three embassy workers and their family members. About 1,000 North Koreans are believed to be in Malaysia, until recently one of the few countries where North Koreans could travel without a visa.
Malaysian Prime Minister Najib Razak said his government was "in the process of establishing the reasons and motives" behind North Korea's drastic measure.
He reiterated that diplomatic relations would not be severed to keep the communication line open for negotiations.
Additional reporting by AP
Comments will be moderated. Keep comments relevant to the article. Remarks containing abusive and obscene language, personal attacks of any kind or promotion will be removed and the user banned. Final decision will be at the discretion of the Taipei Times.