Kaohsiung and Taichung rallies call for clean air
Thousands of protesters yesterday rallied in Taichung and Kaohsiung to protest against air pollution and climate change, joined by ruling party and opposition lawmakers, local politicians and former Academia Sinica president Lee Yuan-tseh (李遠哲).
The marches were organized by the Taiwan Healthy Air Action Alliance to back calls for the government to pay more attention to air pollution, especially in central and southern Taiwan.
Lee, who joined the rally in Taichung City Park, called on the government to make Taiwan a model for change in the battle against climate change.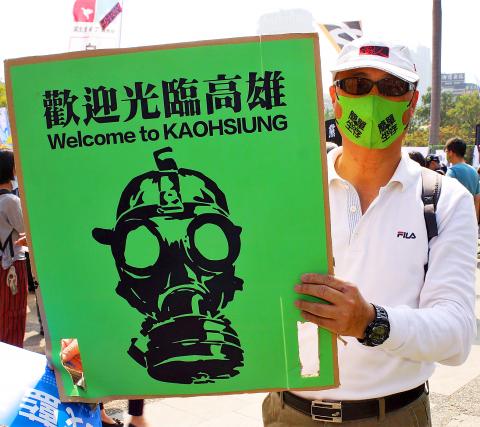 A protester holds up a sign with an anti-pollution message during a march for clean air in Kaohsiung yesterday.
Photo: CNA
The government should update the Air Pollution Control Act (空氣汙染防制法) and "enterprises and society should join the fight" to make Taiwan a more beautiful place, he said.
The climate should not be sacrificed for economic progress, the Nobel Prize laureate said.
The poor air quality in southern Taiwan in recent days was a sign of how human activity has already affected the world in which the next generation will live in, he said.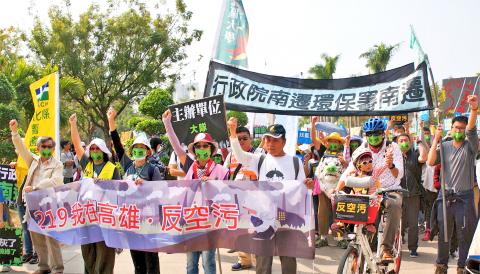 Environmental groups yesterday take part in an anti-pollution march in Kaohsiung. The banner in the background calls for the Executive Yuan and the Environmental Protection Administration to be relocated to the city.
Photo: CNA
Among the protesters in Taichung were members of the Taiwan Clean Air Network and other environmental groups, Yunlin County Commissioner Lee Chin-yung (李進勇) and Chiayi Mayor Twu Shiing-jer (涂醒哲).
Taiwan Healthy Air Action Alliance convener Yeh Guang-peng (葉光芃), who led the Taichung rally, said the nation is divided by two skies — one with clean air and one where there is air pollution caused by poor environmental practices.
Yeh said he hopes that the whole nation can work together to create a "sustainable Taiwan."
Lee Chin-yung said that as a government official it is his responsibility to speak out against climate change and strive to protect his county's air quality.
Twu also spoke about being "duty bound" as a doctor and a mayor, adding that his administration is striving to improve Chiayi's air.
Chiayi has in the past been ranked worst in the nation for air quality, he said, adding that he thinks it is being hurt by industrial activities in China and other countries.
Protest organizers in Taichung said yesterday was the first time they had been joined by medical professionals calling on the government to safeguard the nation's air.
Three appeals were presented during the rallies: that a Cabinet-level task force be organized to combat air pollution and climate change; an interministerial committee set deadlines for plans to improve the air quality in central and southern Taiwan; and the Air Pollution Control Act be overhauled.
Taiwan Alliance for the Protection of Water Resources spokeswoman Chen Chiao-hua (陳椒華) said the Executive Yuan and the Environmental Protection Administration should be relocated to Kaohsiung so that the authorities could learn first-hand how bad the air pollution in southern Taiwan is.
Comments will be moderated. Keep comments relevant to the article. Remarks containing abusive and obscene language, personal attacks of any kind or promotion will be removed and the user banned. Final decision will be at the discretion of the Taipei Times.