China mulling more conditions for invasion: report
China is considering amending its "Anti-Secession" Law to specify more conditions under which it would invade Taiwan, the Yomiuri Shimbun reported on Tuesday.
The story, written by the Japanese daily's Beijing correspondent, said that Chinese President Xi Jinping's (習近平) administration is considering revising the act, or creating a national unification act, to prevent US President Donald Trump's administration from further intervening in Taiwan's affairs.
Enacted in 2005, the "Anti-Secession" Law mandates that the Chinese government would take non-peaceful methods to defend the nation's sovereignty and ensure that national territories remain intact should Taiwan secede from China, or if there is no possibility of a peaceful unification.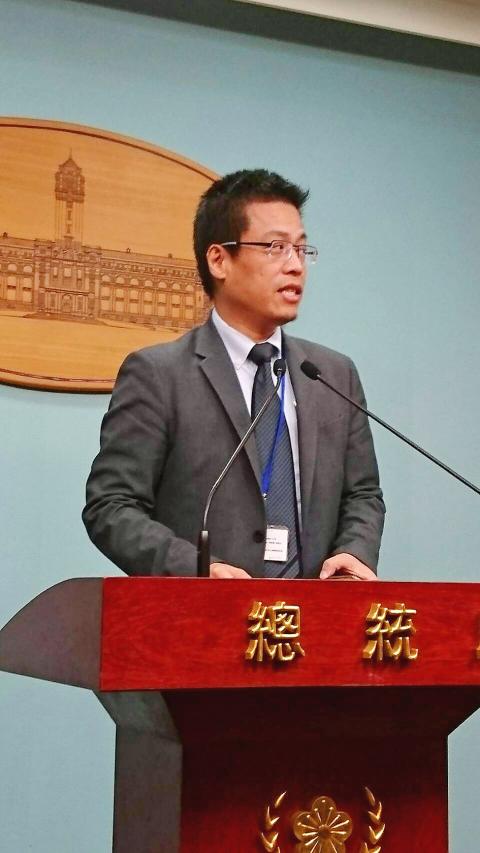 Presidential Office spokesman Alex Huang speaks at a news conference in an undated photograph.
Photo: Chung Li-hua, Taipei Times
One of the changes it is considering would be an explicit statement by President Tsai Ing-wen's (蔡英文) administration that Taiwan would not accept the "one China" principle as a condition for invasion, the report said.
Clarifying the conditions for the act is designed to increase the pressure on Taiwan, it said.
Sources claimed that China is also looking into drafting a national unification act.
Xi has been promoting a "grand resurgence of the Chinese nation [zhonghua minzu, 中華民族]" which is inalienable from unification, and China's National Security Act, passed in 2015, stipulates that "it is the joint obligation of all Chinese citizens, including our compatriots in Hong Kong, Macau and Taiwan, to uphold national sovereignty, seek unification and maintain the integrity of territorial claims," they said.
One of the sources said that China has "arrived at the stage where it can now use the law to define its path for unification," the report added.
Commenting on the report, Presidential Office spokesperson Alex Huang (黃重諺) said the government would continue to monitor developments in relation to the report.
The Mainland Affairs Council declined to comment on the report, but said it would continue to update its contingencies based on China's Taiwan policy and its actions.
Resorting to non-peaceful actions or threats on cross-strait issues is not conducive to future relations, the council said, adding that the stable development of cross-strait relations, and thereby safeguarding the interests of people on both sides of the Strait, is the joint responsibility of the two sides.
China's Taiwan Affairs Office spokesperson An Fongshan (安峰山) said Beijing would defend its sovereignty and territorial integrity through rule of law.
Additional Reporting by Chung Li-hua
Comments will be moderated. Keep comments relevant to the article. Remarks containing abusive and obscene language, personal attacks of any kind or promotion will be removed and the user banned. Final decision will be at the discretion of the Taipei Times.