President tips textiles in San Francisco
HIGH-TECH MOVES: Tsai activated a Twitter account in English, and attended the opening ceremony of the the Executive Center of the Asian Silicon Valley Plan
President Tsai Ing-wen (蔡英文) believes textiles should be at the heart of Taiwan's thinking in developing new global trade arrangements and strategies, the Presidential Office said in a statement yesterday.
The statement cited Tsai as saying during her recent visit to four of Taiwan's diplomatic allies in Central America that she judged the textile sector in Central America to have considerable development potential.
The countries have free-trade agreements with the US that could be advantageous for Taiwanese manufacturers in the region, she said.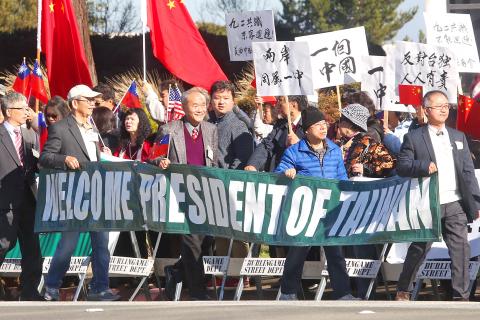 Supporters of President Tsai Ing-wen hold a banner reading "Welcome President of Taiwan" outside Tsai's hotel in San Francisco, while protesters who support unification with China hold up placards behind them.
Photo: CNA
With Taiwan Textile Federation chairman Chan Cheng-tien (詹正田) to propose a new strategy for the global development of Taiwan's textile sector, "this is the time to begin thinking about new arrangements and new strategies, starting with the textile sector," Tsai said, according to the statement.
Tsai made the remarks at a lunch with more than 800 Taiwanese expats in San Francisco on Saturday, according to the statement.
Chan was a member of Tsai's delegation during the overseas tour.
Tsai made a stopover in Houston on Jan. 7 and Sunday last week before heading to Central America and arrived in San Francisco on Friday for a transit stop, at the conclusion of a week-long state visit to Honduras, Nicaragua, Guatemala and El Salvador.
Tsai opened a new Twitter account on Saturday during a visit to the company's San Francisco headquarters.
At the Twitter headquarters, she met with Twitter general counsel Vijaya Gadde, but CEO and co-founder Jack Dorsey was not present, according to a Reuters report that cited a source at the meeting.
Tsai activated a Twitter account in English during her visit. She has a Chinese-language account that she has not used for a few years, Democratic Progressive Party Legislator Pasuya Yao (姚文智) said.
Tsai also attended a lunch with Taiwanese expats at the Hyatt Regency hotel near San Francisco International Airport.
Some protesters rallied against Tsai's China stance outside the hotel, while others gathered to show their support for the president.
Tsai also attended a ceremony marking the opening of the Executive Center for the Asian Silicon Valley Plan in Silicon Valley on Saturday.
Tsai launched the Asian Silicon Valley Plan in September last year in a bid to "connect Taiwan to global tech clusters and create new industries for the next generation."
Tsai said she hoped the center would build links with high-tech companies and research institutions in the area so that high-value supply chains of technology, talent and capital could be created to support the plan's implementation.
The base for the plan's implementation was inaugurated in Taoyuan on Dec. 25 last year.
During the stopover, Tsai also spoke with a few US friends of Taiwan by telephone, Presidential Office spokesman Alex Huang (黃重諺) said, but the only person he was willing to reveal was US Senator Cory Gardner.
Gardner told Tsai that he asked US president-elect Donald Trump's nominee for secretary of state — former Exxon Mobil CEO Rex Tillerson — to reaffirm the US' commitment to Taiwan, based on the Taiwan Relations Act (TRA) and the "six assurances," during Tillerson's Senate confirmation hearing on Wednesday last week.
Tsai thanked Gardner and the US for their support for Taiwan, and she invited him to visit Taiwan, Huang said.
She was scheduled to return to Taiwan late yesterday evening Taipei time.
Comments will be moderated. Keep comments relevant to the article. Remarks containing abusive and obscene language, personal attacks of any kind or promotion will be removed and the user banned. Final decision will be at the discretion of the Taipei Times.